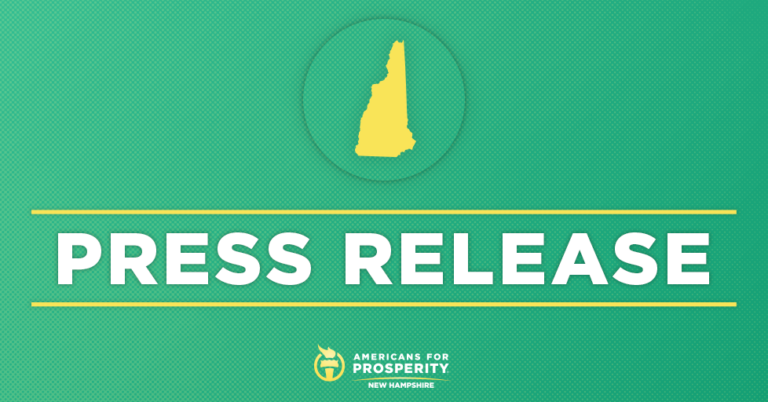 ICYMI: Press Highlights AFP's Infrastructure, Filibuster Campaigns
MANCHESTER, NH – State and national press covered Americans for Prosperity (AFP)'s ad and grassroots campaigns on driving opposition to eliminate the filibuster and President Biden's $4 trillion "infrastructure" proposal. AFP-NH recently hosted an event featuring AFP President Tim Phillips as he discussed why U.S. Representative Chris Pappas and U.S. Senator Maggie Hassan need to stand up to partisan attempts to pass another wasteful Washington spending spree and eliminate the filibuster.
Below are excerpts from WMUR's article:
"Hassan was among 61 senators of both parties who signed a letter in 2017 urging then Senate Majority Leader Mitch McConnell to maintain the 60-vote cloture threshold needed to end a filibuster.

…

AFP-New Hampshire over the past few weeks has routed letters from to Hassan's office via a web page, urging her: "Do not end or alter the filibuster."
Tim Phillips was also interviewed by WMUR's Adam Sexton. View the segment here.
Here are excerpts from Fox News' article on AFP's filibuster campaign:
"It's a good thing for the country. The Senate is meant to be a cooling saucer," Phillips emphasized in an exclusive interview with Fox News Thursday evening in Salem, New Hampshire.

…

"We've got to make sure that Sen. Hassan and the other Democratic senators understand that regardless of what folks on the extreme left are saying, that normal people back in their states don't want to see this partisanship and the extreme legislation that will happen if they kill the filibuster," Phillips argued."
Below are excerpts from Fox Business' article on AFP's infrastructure campaign:
"A powerful, fiscally conservative and libertarian political advocacy group is launching a new seven-figure effort to drive opposition to President Biden's wide-ranging infrastructure proposal that he's trying to pass through Congress.

…

AFP has committed to more than 100 events across the country to take its message directly to voters, including rallies, town halls, door-to-door canvassing, and phone banks. And the group highlighted that its campaign includes a paid media component, consisting of direct mail, digital advertising, and what it says are other tactics."
Below are excerpts from NH Journal's article covering last week's event in New Hampshire:
The president of the fiscally conservative grassroots group Americans For Prosperity stopped in Salem Thursday night with a message for Sen. Maggie Hassan, one that no doubt sounded very familiar.

After all, AFP's Tim Phillips noted, she signed it.

…

"When Trump was president, McConnell was Leader with a majority of 53 and Republicans controlled the House — I'm glad you're all sitting down, you'll be shocked by this — Democrats thought the filibuster was a great idea!" Phillips said. "They even signed letters about it.

"Today, we're not asking Senator Hassan to change her mind. We're just asking the senator to keep her word to the people of New Hampshire."