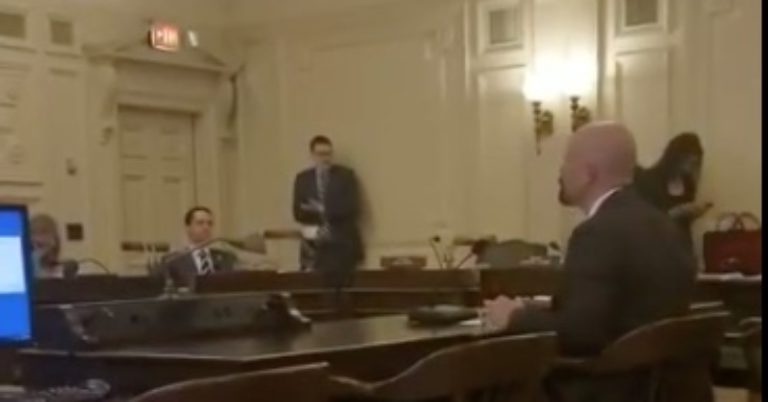 ICYMI: New Jersey Senate Hears AFP-New Jersey Testimony on Civil Asset Forfeiture Reform
Watch AFP-New Jersey coalition partner Kristian Stout from the International Center for Law and Economics testify in favor of S-1963.
Last week, AFP-New Jersey, along with a coalition of organizations supporting civil asset forfeiture reform, testified before the New Jersey Senate on S-1963.
Read AFP-New Jersey's testimony here.
The bipartisan bill would be a crucial step toward increasing accountability and transparency in New Jersey's existing civil asset forfeiture practices. S-1963 would institute new reporting measures to protect civil rights and codify those measures into law.
AFP-New Jersey has been a strong advocate for civil asset forfeiture reform and previously formed a coalition of organizations supporting the Senate bill, S-1963, and its Assembly companion bill A-3442.
The Garden State currently allows law enforcement to seize cash, cars and other property of citizens authorities deem suspects, regardless of whether they are ever charged with a crime.
In many instances, property owners are forced to take their case to court to retrieve their confiscated valuables, which can cost New Jersey citizens even more time and money.
Last week, Kristian Stout, associate director for innovation policy at the International Center for Law and Economics testified in favor of S-1963.
In his written testimony, Stout noted:
Bad incentives exist in the law enforcement practice known as Civil Asset Forfeiture ("CAF") that lead to violations of our citizens' civil rights. Without the support of the New Jersey legislature, it will be next to impossible to identify where and how those incentives are working to undermine our justice system. Thus, S1963, and its counterpart in the General Assembly, A3442, provide a crucial first step in the process of coming to understand how CAF is practiced in New Jersey, and where our legislature will need to look next to root out any systematic injustices being perpetrated through CAF programs…
In his spoken address before the New Jersey Senate, Stout added, 
This bill [S-1963] gives us the opportunity to examine simply the incentives that exist in this system for police officers and law enforcement personnel to treat their offices and execute their duties in good way, as we expect them to.

…

[Reform is needed because] we don't want New Jersey to be the poster child for bad asset forfeiture practices.
Civil asset forfeiture undermines private property and the due process rights of New Jersey residents. Americans for Prosperity – New Jersey and all our activists call on the legislature to eliminate civil forfeiture and replace it with criminal forfeiture so law-abiding citizens will not be deprived of property without due process.
S-1963 is an important first step toward ending the practice of civil asset forfeiture in New Jersey altogether.Take action and urge state lawmakers to pass S-1963 today!
Watch the full video from the testimony here.