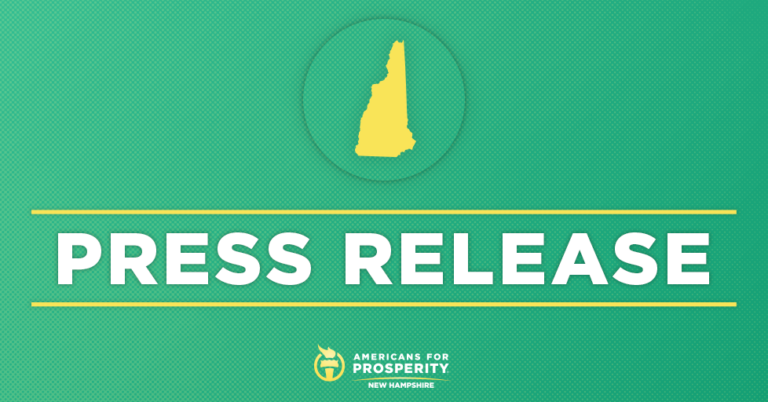 House Fails to Advance Worker Freedom Bill
CONCORD, NH – Americans for Prosperity-New Hampshire (AFP-NH) today expressed disappointment that the New Hampshire House of Representatives failed to pass Senate Bill 61, a Right to Work bill that offers workers the choice on whether to join and pay a union.
Currently, workers in the private sector have dues deducted from their paychecks without consent. Even if employees reject union membership, workers must still pay fees to unions in order to keep their job.
The grassroots group ran a robust statewide ad campaign that included digital ads and direct mail in targeted districts educating tens of thousands of Granite Staters about why this bill will help the state, while empowering Granite Staters to contact their lawmakers.
AFP-NH State Director Greg Moore released the following statement:
"We are disappointed that lawmakers voted to continue the status quo that forces workers to decide whether to support their families and keep more of what they earn or risk losing their job. The House missed a great opportunity to strengthen our New Hampshire Advantage and increase our state's economic competitiveness. This fight isn't over, Americans for Prosperity will continue working to ensure that no New Hampshire employee is forced to pay for something they don't want."
Background:
The Janus v. AFSCME Supreme Court decision guaranteed a Right to Work status for every public employee in America, and this bill would have ensured that all private sector Granite Staters are granted the same rights.
States with Right to Work policies are associated with many positive economic indicators that reveal increased opportunity for workers. For instance, over a recent 10 year period, Right to Work states experienced faster manufacturing and overall job growth, higher growth in household consumption, and greater disposable and overall cost of living adjusted incomes.
Americans strongly support Right to Work laws, including within union households.