Please select your state
so that we can show you the most relevant content.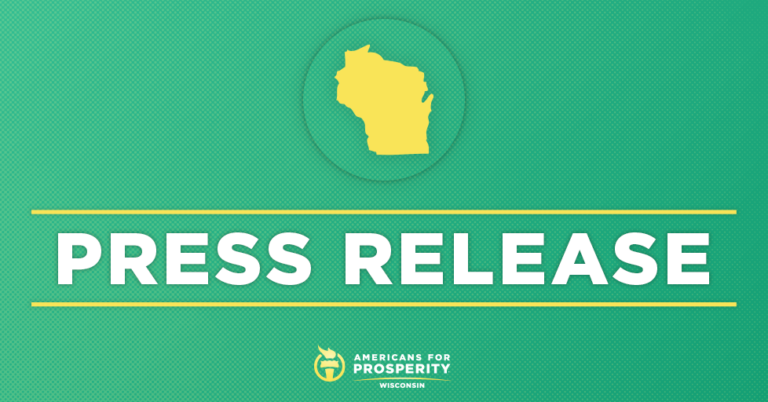 Free Market Solutions Feeling the Love in Madison Today
AFP-WI Priorities Take Center Stage in Valentine's Day Hearings
MADISON, WI – Americans for Prosperity-Wisconsin (AFP-WI) today reaffirmed its strong support for a quartet of free-market reform bills that were featured at committee hearings in the state Capitol on Valentine's Day.
Americans for Prosperity-Wisconsin State Director Eric Bott made the following statement:
"AFP-WI is enamored these four common-sense, pro-freedom reform bills will be the object of our lawmakers' affection in Madison today. Whether it is extending winery hours, allowing dental therapists to operate in our state or ending minimum markups for prescription drugs, these reforms are sweetheart deals for hardworking Wisconsinites and their families. Our base of over 130,000 grassroots activists have their hearts set on seeing these free-market reforms passed by the legislature and sent to Governor Walker's desk this year. We sincerely hope our lawmakers will not jilt our activists and leave them standing alone at the altar of good public policy."
AFP-Wisconsin spotlighted the following bills being heard by various committee hearings today:
Assembly Bill 433 allows wineries to stay open three extra hours until Midnight. Outdated  regulations force wineries to close at 9:00pm, preventing them from hosting evening events like  weddings,  family  reunions,  birthday   parties,   retirements,   graduations  and  other  special  occasions.
Assembly Bill 945 and Senate Bill 784 lets dental therapists operate in Wisconsin at a time when the state is suffering from a dental service shortage. Dental therapists are like physician assistants and provide a level of service greater than licensed hygienists but below dentists.
Senate Bill 263 repeals Depression-era mandates that force businesses to markup the price of prescription drugs and other retail goods.
Bott added:
"AFP-Wisconsin applauds Rep. Felzkowski and Sen. Craig for introducing the dental therapists bills to remove barriers currently in the way of Wisconsinites who need access to quality dental care services. Chairmen Sanfelippo and Sen.Kapenga deserve tremendous credit for holding hearings on these important bills in their respective committees. We also applaud Sen. Vukmir for her authorship of SB 263 to save hardworking Wisconsinites money on everyday necessities like prescription drugs. Chairman Moulton is to be commended for bringing this measure to the attention of his committee today."
© 2023 AMERICANS FOR PROSPERITY. ALL RIGHTS RESERVED. | PRIVACY POLICY