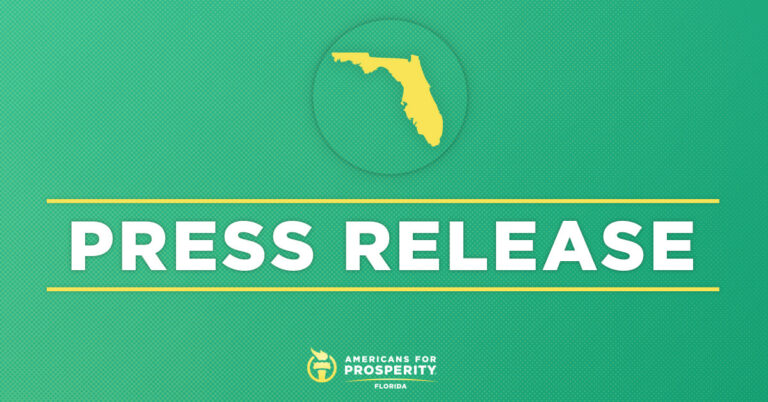 Florida, Best in Class
Grassroots group applauds years of thoughtful policy reforms that catapulted Florida to be recognized as the freest state in the country
Tallahassee, FL – Americans for Prosperity-Florida, the state's leading grassroots advocates for freedom are applauding Florida lawmakers from the past several legislative sessions for pushing for policy outcomes that have led the Sunshine State to be recognized as the freest state in the country.
The CATO Institute released their "Freedom in the 50 States" rankings that study the policies that shape personal and economic freedom.
The study has found that a strong correlation exists between regulatory freedom and income growth.
Florida ranked 1st overall, 1st in fiscal policy, 1st in economic freedom, and 2nd in education policy. AFP-FL will challenge lawmakers in 2019 to focus on reducing regulatory burdens (22nd) and eliminating barriers to opportunity caused by occupational licensing practices (46th).
AFP-FL State Director, Chris Hudson released the following statement:
"Reducing barriers to opportunity can cement Florida as the top ranked state for freedom.  Whether in health care, business, or education, reducing burdensome red tape must be a continued focus for the new legislature and Florida's next governor. We will continue advocating policies that will make Florida the best place to live, work, and raise a family. This study should serve as our collective challenge to preserve our freedom in Florida and push back on policy threats that might knock us off. A special recognition goes out to Florida lawmakers that have put policy over politics, improving lives over the status quo, and for their commitment to preserving and expanding our freedoms in the Sunshine State."
William Ruger, one of the study's authors, and Vice President for Research and Policy at the Charles Koch Institute and Vice President for Research at the Charles Koch Foundation, had this to say about Florida's top marks:
"Floridians should be proud of their #1 ranking in the newest edition of Freedom in the 50 States.  Florida's leaders have largely avoided restrictive policies that have harmed economic growth in other states while making opportunity-enhancing reforms that have benefited current residents and the hundreds flocking to the state each day.  But there is still work to do to reduce unhelpful regulations on businesses and restrictions on personal freedom if Florida wants to retain its title as freest state in the country."