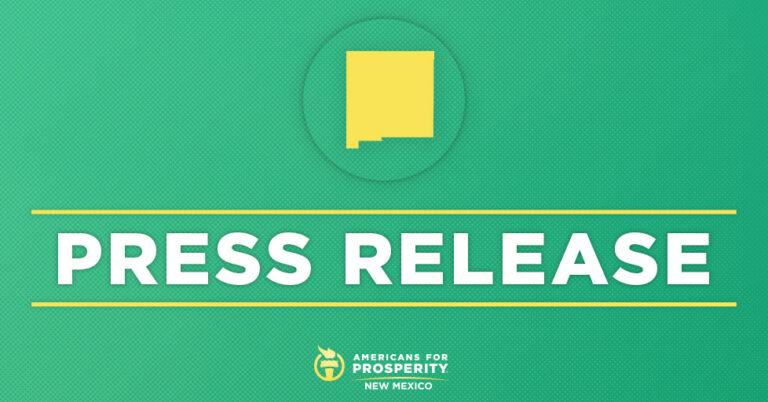 "Crumbs" in Santa Fe?
Leader Pelosi draws fog to New Mexico's benefits of tax reform
Albuquerque, NM – Americans for Prosperity-New Mexico (AFP-NM) is disappointed in Minority Leader Nancy Pelosi for spreading a misinformation campaign on the true benefits of tax reform. Along with videos and collateral being provided by the group Not One Penny, Leader Pelosi is traveling the country using already debunked statistics that won't fool Americans as they see for themselves the growing investment in the economy and in the personal savings brought on by the Tax Cuts and Jobs Act.
Debunking the attacks on tax reform: Americans for Prosperity has produced a Myth vs. Fact sheet to equip our grassroots volunteers with the information they need to dispel the myths being told by those seeking to undo the progress made by tax reform and set the record straight on the true benefits of the law.
AFP-NM state director, Burly Cain released the following statement.
"Tax reform is working in New Mexico and I'm confident New Mexicans will see through Nancy Pelosi's attacks on the new law. Although she's shown to be out-of-touch with the struggles of everyday Americans by calling thousand-dollar bonuses 'crumbs,' we hope she will embrace the benefits of tax reform and help New Mexicans keep their hard-earned money by making the cuts permanent. What she has yet to recognize is that our businesses are investing in their employees and our workers are seeing higher wages and more job opportunities because of new tax law. We are fighting to preserve the benefits of tax reform and would ask Leader Pelosi if she will help New Mexicans keep their tax cuts?"
The American people disagree with Leader Pelosi. In fact, the New York Times came out with a February poll that shows not only growing support for the new tax law, but majority support.
AFP made tax reform a top federal priority in 2017 and engaged its nationwide grassroots infrastructure in support of a positive vision to unrig the economy. As part of that effort, AFP held more than 100 grassroots events, which saw the organization partner with local communities, elected officials and policy experts to highlight the beneficial impact of comprehensive tax reform.
In January, AFP announced that, together with its grassroots partners, it would spend up to $20 million in 2017 and 2018 to drive action around the benefits of the Tax Cuts and Jobs Act and ways to build on progress made through this once-in-a-generation reform. The American Pay Raise is a significant part of that effort.
The grassroots group has also launched AmericanPayRaise.com, which features an interactive map depicting how businesses across the country are investing in workers and communities as a result of the law.