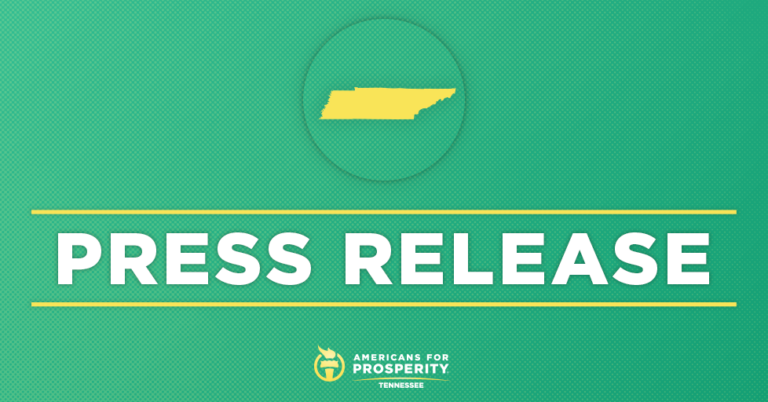 Certificate-of-Need, Justice Reform Bills Approved by Senate
Grassroots group urges legislature to reimagine state's health care, criminal justice system
NASHVILLE, TN – Americans for Prosperity-Tennessee (AFP-TN) today commended the Senate for passing bills that reform the state's burdensome certificate-of-need (CON) laws and Tennessee's harsh drug free zone laws. Both bills will be heard in the State House of Representatives in the coming week.
The grassroots group recently launched a statewide digital ad and direct-mail campaign that urges Tennessee lawmakers to make Governor Lee's temporary suspension of CON permanent. The group has also run statewide, targeted digital ads that direct Tennesseans to a tool that enables them to contact their lawmakers in support of reforming Tennessee's drug free zone laws.
AFP-TN State Director Tori Venable issued the following statement:
"We applaud the Senate for working diligently to pass these necessary, bipartisan reforms that will give Tennesseans more access to healthcare by rolling back burdensome regulations and ensuring taxpayer resources are spent wisely by reducing our sprawling drug-free zones that limit judicial discretion."
"Removing CON restrictions not only helps people now during the current crisis, it will also better prepare our health care system for a future crisis. We're engaging Tennesseans across the state to help them contact their lawmakers in support of this common-sense, trusted reform that gets unnecessary restrictions out of the way from people getting the care they need."
Background:
SB 2734 would reform the state's drug free zone laws and reduce the zones from 1000 feet to 500 feet and give judges discretion on whether an enhancement is appropriate. Currently, Tennessee's drug-free zone laws bump up drug felonies by a level and eliminate the possibility of an early release. As a result, some people receive punishments that far exceed the severity of their crimes – and the state wastes expensive prison bed space on people who committed less serious drug offenses. Automatically and arbitrarily extending a sentence by ten years costs nearly $300,000 – for just one person. These resources could be better used addressing addiction, focusing on re-entry programs, and preserving prison space for individuals convicted of more serious offenses.
SB 2312 significantly reforms the certificate-of-need process and increases access to health care facilities and services.
AFP TN Blog | Tennessee is considering two essential health care reforms designed to offer patients better care