Please select your state
so that we can show you the most relevant content.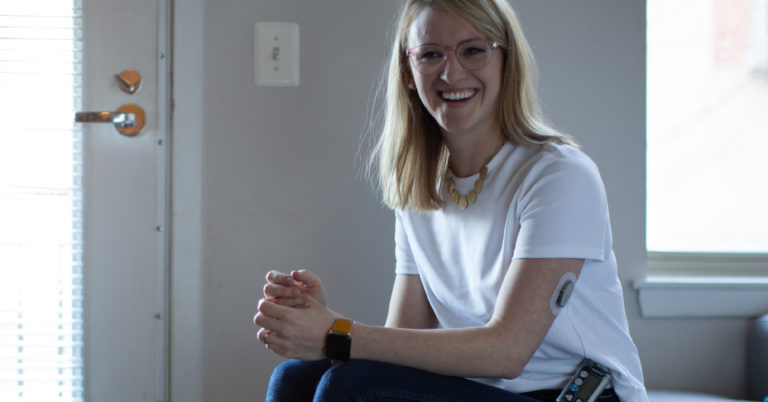 Care for the Commonwealth: How Tech Innovation Helps Sarah Manage Diabetes
About 1.25 million American children and adults have Type 1 Diabetes. The disease prevents the body from producing insulin, a hormone needed to get glucose (which gives the body energy) from the bloodstream into the cells.  There's no cure for Type 1 Diabetes. So, those living with it must manage their blood sugar levels through meals, which alters blood sugar levels, and through the night. If those levels get too high or too low, it can be life-threatening.  
 Sarah was diagnosed with the autoimmune disease at age 11. Traditional tools used to monitor blood sugar levels made life difficult. She had to: 
Use glucose readings and guess the absorption time of food to predict the right insulin dosages, which left a lot of room for error. 
Frequently get up in the middle of the night to treat low or high blood sugar levels. 
For the most part, treat blood-sugar levels in a reactionary way, because she was unable to predict them. 
To make matters worse, her blood sugar data and insulin dosages were stored in separate places. This made it difficult for Sarah to analyze the data to adjust dosages and to share it with her doctor. 
But recent innovations in treatment have made living with Type 1 Diabetes easier and safer. Loop, an open-source technology, automates some of the tedious and life-threatening aspects of managing the disease. It connects the insulin pump to a continuous glucose monitor and can:  
Automatically adjusts Sarah's insulin rates.  
Predict her blood sugar level for up to five hours using an algorithm.  
Connect to a cell phone app or Apple Watch to make monitoring blood sugar levels more convenient. 
Store all data together in one system for easy review.  
Adjust insulin rates automatically, while Sarah is sleeping. 
"When people think about innovation, they usually think of self-driving cars or drones delivering your groceries. Technological advancements in health care aren't this flashy, but can have a much larger impact on the world," Sarah said. "Loop has definitely made it easier to live with an incurable disease — and has made me safer." 
Sarah is just one of many Virginians benefiting from health care innovation. 
© 2023 AMERICANS FOR PROSPERITY. ALL RIGHTS RESERVED. | PRIVACY POLICY