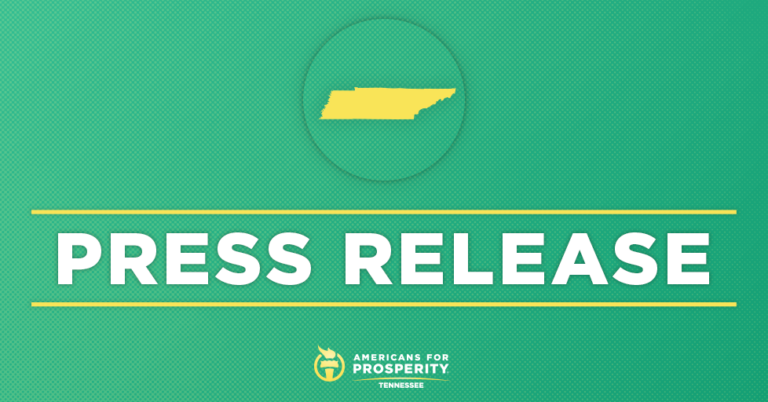 Bredesen Distorts Record of Support for Higher Taxes
NASHVILLE, TN – Facing criticism from Tennesseans for his support for higher taxes, Phil Bredesen today set out to set the record straight. Instead, he misrepresents – again – exactly what his record demonstrates.
Americans for Prosperity-Tennessee State Director Tori Venable released the following statement:
"Make no mistake about it: If Phil Bredesen had his druthers, Tennesseans would have been saddled with higher taxes throughout his time as governor. But now that it's a politically inconvenient position, he's working overtime to rewrite history – and is even taking credit for the legislature's rejection of his own bad ideas. The reality is that he wanted to raise the gas tax and the sales tax. He said so repeatedly. Fortunately, Tennesseans rejected his bad policy and ideas, and will similarly reject his candidacy for the Senate come this fall.
Background:
Bredesen Has Consistently Talked About Increasing The Gas Tax
In 2003, Bredesen Supported A Gas Tax Increase, Saying That He "Talked About The Gas Tax At Various Times In The Campaign … It Has Always Been On The Horizon." "In the next two to three years, the tax paid on every gallon of gasoline in Tennessee may have to go up 'a couple of pennies,' Gov. Phil Bredesen said yesterday. Without the additional money, he said, the state stands to lose millions of dollars in matching federal funds to build roads and fund other programs in the state Department of Transportation. … While he pledged not to support a state income tax during his first term in office, he said he did not make such a commitment regarding other taxes. 'I talked about the gas tax at various times in the campaign,' he said. 'It has always been on the horizon.'" (Bonna De La Cruz, "Bredesen Says Gas Tax Hike Needed To Get Federal Road Funds," The Tennessean, 3/12/03)
Bredesen: "I've Always Thought That If The (Bush) Administration Were To Pass A New, Long-Term Highway Bill, That Might Be A Time You Want To Revisit The Whole Gas Tax Issue. That Would Definitely Be The Time." "Bredesen, who has committed to restoring $36 million in cuts of state subsidies to local governments over the next two years, said he is not making the same commitment to restoring $65 million in prior cuts to the state road-building fund. He does intend to eventually restore the highway monies, but perhaps over a longer period of time and probably in conjunction with changes in federal highway construction funding. That could include an increase in the state gasoline tax, Transportation Commissioner Gerald Nicely has said, if more state money is needed to 'match' federal funding. 'I've always thought that if the (Bush) administration were to pass a new, long-term highway bill, that might be a time you want to revisit the whole gas tax issue. That would definitely be the time,' said Bredesen, though adding that appears unlikely in the near future." (Tom Humphrey, "Bredesen Looking To Widen Agenda; Governor Says His Overall Goal Is 'Modernizing The State's Economy'," Knoxville News-Sentinel, 5/30/04)
Bredesen: "I Think Infrastructure Is Important. We Fund It Through The Gas Tax. And If There's Additional Federal Money Which A Small Increase In The Gas Tax Would Make Sense To Bring Down, Then I'm For It. I Think We Should Do It." "Gov. Bredesen accused Sen. Bryson of distorting the issue. 'You know perfectly well that no one has proposed keeping that money out and raising dollars to supplant that,' he said. The governor noted that he cut most departments except education because of budget shortfalls when he took office in 2003. He said over the past three years he has worked to restore that money. Of a possible gas tax increase, the governor said, 'I think infrastructure is important. We fund it through the gas tax. And if there's additional federal money which a small increase in the gas tax would make sense to bring down, then I'm for it. I think we should do it.'" (Andy Sher, "Sales, Gas Taxes Play Key Roles In Debate," Chattanooga Times Free Press, 10/9/06)
While Running For Re-Election, Gov. Phil Bredesen Said He Would Support A Small Gas Tax Increase To Match Federal Dollars. "While running for re-election, Gov. Phil Bredesen said he would support a small gas tax increase to match federal dollars." (Cliff Hightower, "Proposals To Hike Gas Tax Stuck In Legislature," Chattanooga Times Free Press, 3/13/07)
In Discussing His Second-Term Agenda, Bredesen Said He Saw A Need To Raise Taxes On Gasoline And Diesel Fuel Before His Term Ended. "Bredesen said he also sees a need to raise taxes on gasoline and diesel fuel, not this year, but probably before his term ends. The current basic state gas tax is 21.4 cents per gallon, with revenue dedicated to highway construction and maintenance, plus an 'inspection fee.' 'We are going to have to deal with the issue that 22 cents today is not what 22 cents was in 1989 (the last time state gas taxes were increased),' Bredesen said. Gas tax revenue has risen slowly, he said, while 'double-digit inflation' has plagued construction costs. The state has about $300 million per year available for road projects, he said, when about $400 million is needed, resulting in a growing backlog of projects." (Tom Humphrey, "Bredesen Discusses 2nd-Term Agenda," Knoxville News-Sentinel, 1/15/07)
Bredesen Proposed Eliminating The Sales Tax Cap
Bredesen Called For Eliminating The Sales Tax Cap On Purchases Over $3,200. "Democratic Gov. Phil Bredesen said Thursday that lifting Tennessee's sales tax cap to plug an $80 million budget gap would avoid a pay cut for all state employees. Bredesen told reporters after a speech to educators that the alternative to lifting the cap would be to require a 5 percent salary decrease for all state workers. 'We'd probably have to do an across-the-board salary reduction,' Bredesen said. 'And this was sitting out there as an exception that I think is not really justified by any public policy.' The state currently limits sales taxes to the first $3,200 of purchases. Bredesen wants to remove that cap to allow the state to collect sales taxes on the full purchase price. The cap would remain for vehicles, boats and homes." (Erik Schelzig, "Bredesen: Lift Sales Tax Cap Or Cut State Salaries," Associated Press, 4/16/10)
Lawmakers Rejected Bredesen's Proposal To Eliminate The Sales Tax Cap. "After some late-night wrangling, the state Senate approved a $28 billion budget shortly before 11 p.m. Thursday, laying the foundation for Tennessee government spending for the fiscal year beginning July 1. … Legislators said they tried to create a pact that would balance the budget without raising taxes. They rejected proposals by Gov. Phil Bredesen to lift the sales tax cap on items that sell for more than $3,200, which would have raised $85 million for the state, and a proposal to tax cable boxes and to equalize sales taxes on cable and satellite television services, which would have brought in $23.3 million." (Chas Sisk, "Senate Passes Hurdle, Budget," The Tennessean, 6/4/10)