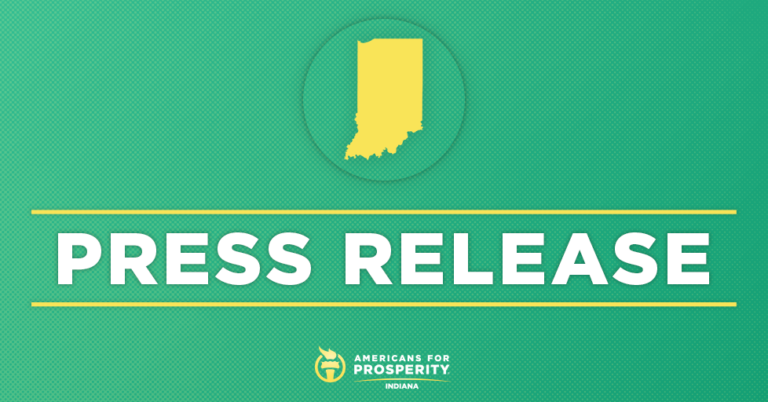 Best Way To Make Tax Cuts Permanent: Hold Joe Donnelly Accountable for Opposing Them
Indianapolis, Ind. – Senator Joe Donnelly is trying to explain his opposition to the Tax Cuts and Jobs Act by suggesting his problem with the bill was that the individual tax cuts weren't permanent. According to the Indianapolis Star, "Donnelly said he voted against the bill because it cuts taxes for the wealthiest Americans while raising taxes on a majority of families making less than $75,000 in coming years."
Americans for Prosperity-Indiana State Director Justin Stevens issued the following statement:
"If Hoosiers want to make sure their tax cuts are made permanent, the best thing they can do is hold Joe Donnelly accountable for opposing them. The only reason these tax cuts weren't permanent to begin with is because Joe Donnelly chose to mislead his constituents and side with Chuck Schumer and Nancy Pelosi to vote 'no'. Joe Donnelly is a typical politician who says one thing and does another, and the fact that he stood against these tax cuts proves he cares more about partisan politics than the people he's supposed to represent."
Joe Donnelly Says One Thing, Does Another
Joe Donnelly Used to Support Cutting The Corporate Tax Rate to Make America More Competitive:
In 2012, Donnelly Called For Reducing The Corporate Tax To 25 Percent Saying It Would Bring Companies Back To The U.S. "I would support reducing the tax on small businesses, and all businesses, corporations to 25%. And what we're able to do by that is it's able to make our companies more competitive and it will help us to be able to bring more businesses right back to our own country." (IndianaDebate, "2012 Indiana US Senate Debate,"YouTube, 10/16/17, @12:10)
Joe Donnelly Has a Track-Record of Supporting Temporary Tax Relief:
In 2007, Donnelly Said "I Believe Middle-Class Tax Relief Is Of Critical Importance." "As your congressman, I believe middle-class tax relief is of critical importance to what should be one of our country's top priorities: strengthening the middle class. That is why I was pleased to recently vote for The Temporary Tax Relief Act. Named for the temporary one-year provision that would protect over 33,000 Second District taxpayers from an unexpected tax increase under the Alternative Minimum Tax, this legislation also would provide additional tax relief to Hoosier families where they need it the most." (Representative Joe Donnelly, "DONNELLY: Some Tax Relief For Middle Class;" Kokomo Tribune, 12/6/07)
Tax Cuts and Jobs Act Resulting In Higher Wages, More Jobs Across Indiana
Numerous Companies In Indiana Have Responded to Tax Reform By Raising Wages for Workers, Offering Bonuses, and Expanding Their Businesses.
First Farmers Bank And Trust Announced Bonuses And The Company's Biggest Wage Increase In 133 Years. "First Farmers Bank & Trust is set to issue $750 year-end bonuses to its more than 330 full-time employees. It's also increasing its minimum starting wage by $2.50 — the biggest wage increase in its 133-year history. How can the Converse-based bank afford the new investment? Company officials say it's thanks to the new corporate tax cut approved by Congress and signed into law last month by President Donald Trump." (Carson Gerber, "A Tax-Bill Boom: Area Employees See Pay Raises, Bonuses After Corporate Tax Cut," Kokomo Tribune, 01/14/18)
Indiana Hourly Employees At Fifth Third Bank Will See Raises Rise To $15 Per Hour Following The Tax Reform Bill. "Fifth Third President and CEO Greg Carmichael said the tax cut gave the bank an opportunity to re-evaluate what it pays employees and share some of the savings. Nearly 3,000 workers will see hourly wages rise to $15. Others will receive a $1,000 bonus … More than 620 Indiana employees will receive a $1,000 bonus, said Steven Alonso, Fifth Third's Indianapolis group regional president." (Fatima Hussein, "Congress Passed Tax Cuts. Will Indy's Wages Go Up?" Indianapolis Star, 12/21/17)
Greensburg, Indiana Based MainSource Financial Group Raised Their Starting Pay To $15 Per Hour. "MainSource Financial Group will raise the starting pay and minimum hourly rate to $15 an hour effective immediately for all of its non-exempt, non-commissioned employees. This announcement comes as a result of the recently passed tax legislation, which includes a reduction in corporate tax rates. Approximately 1,000 associates are employed throughout the MainSource footprint in Ohio, Indiana, Illinois and Kentucky. The pay increase will affect over 200 employees." (Press Release, "MainSource Financial Group Announces Pay Increase for Hourly Employees," PRNewswire, 1/3/18)
Valparaiso Based Convenience Store, Family Express, Raised Starting Pay By $1 In Response To Tax Reform. "Valparaiso-based Family Express, which has 70 convenience stores across Indiana and is in the process of building 10 more, is bumping its starting wage to $11 an hour. The 43-year-old convenience store chain is raising entry-level pay by $1 an hour, after pre-empting national retailers like Walmart with above-market starting wages in April 2015. Family Express said it was boosting pay because of the tax cuts that reduced the corporate tax rate from 35 percent to 21 percent and as a bid to recruit quality employees and reduce turnover.  'We feel obligated to pass on a significant portion of the tax savings to our staff,' Family Express President and CEO Gus Olympidis said." (Joseph S. Pete, "Family Express Raises Starting Pay To $11 An Hour," Northwest Indiana Times, 2/9/18)
Indiana-Based MutualBank Responded To The Tax Cuts By Giving All Full And Part-Time Employees A $750 Bonus And Increasing Their Hourly Wage By $.50 Per Hour. "The Tax Cuts and Jobs Act passed at the end of 2017 gave companies in all industries the opportunity to project a different economic outlook in 2018 and possibly beyond. While those realizations have not yet materialized, the rapid changes in our environment gave senior management at MutualBank an opportunity to evaluate how to respond. … In the first quarter of 2018, MutualBank will distribute a $750 one-time payment for all full-time and part-time employees except for the Executive Management Team. Additionally, all non-exempt employees will receive a $0.50 increase in their hourly wage. … MutualFirst Financial, Inc. is the parent company of MutualBank, an Indiana-based financial institution since 1889." (Press Release, "MutualBank Announces Hourly Wage Increase And Bonuses," MutualBank, 1/20/18)
FedEx Announced They Would Invest $1.5 Billion Into Expanding Their Indianapolis Shipping Hub And Advance Pay Increases For Hourly Workers. "FedEx Corporation is announcing three major programs today following the recently enacted U.S. Tax Cuts and Jobs Act: … 1) Over $200 million in increased compensation, about two-thirds of which will go to hourly team members by advancing 2018 annual pay increases by six months to April 1st from the normal October date. The remainder will fund increases in performance-based incentive plans for salaried personnel.2) A voluntary contribution of $1.5 billion to the FedEx pension plan to ensure it remains one of the best funded retirement programs in the country. 3) Investing $1.5 billion to significantly expand the FedEx Express Indianapolis hub over the next seven years. The Memphis SuperHub will also be modernized and enlarged in a major program the details of which will be announced later this spring. FedEx believes the Tax Cuts and Jobs Act will likely increase GDP and investment in the United States." (Press Release, "FedEx Committing More Than $3.2 Billion In Wage Increases, Bonuses, Pension Funding And Expanded U.S. Capital Investment Following The Passage Of The Tax Cuts And Jobs Act," Business Wire, 1/26/18)
For further information or an interview, reach Lorenz Isidro at LIsidro@afphq.org or (703) 887-7724. 
Americans for Prosperity (AFP) exists to recruit, educate, and mobilize citizens in support of the policies and goals of a free society at the local, state, and federal level, helping every American live their dream – especially the least fortunate. AFP has more than 3.2 million activists across the nation, a local infrastructure that includes 36 state chapters, and has received financial support from more than 100,000 Americans in all 50 states. For more information, visit www.americansforprosperity.org
###