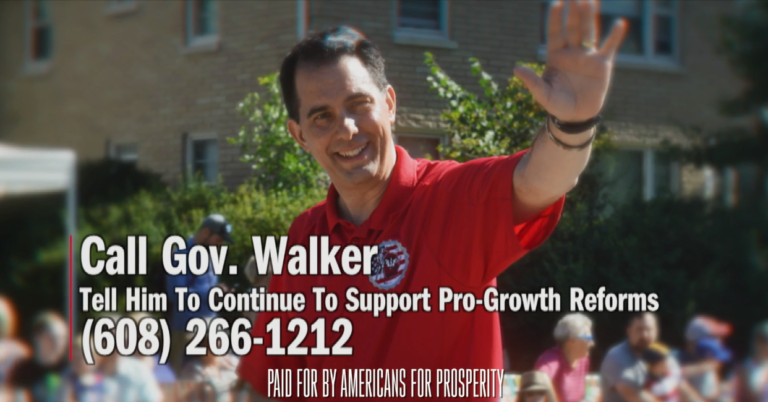 Americans for Prosperity-Wisconsin Launches New TV Ads Thanking Governor Scott Walker
Seven-figure television and digital ad buy spotlights success of Walker economic and education policies
MADISON, WI – Americans for Prosperity-Wisconsin (AFP-WI) today announced a new seven-figure investment in television and digital advertisements asking Wisconsinites to thank Governor Scott Walker for his successful, pro-growth economic policies that have lowered the state's unemployment rate to an historic 2.8 percent. The ad also praises Walker's historic levels of investment in Badger State schools, and asks Wisconsinites to urge him to continue these reforms.  The ads will begin running statewide tomorrow.
AFP-Wisconsin State Director Eric Bott made the following statement:
"Governor Scott Walker continues to build on his strong record of reform. From cutting taxes to growing the state rainy day fund, Walker has a been a champion for pro-growth, pro-freedom policies that have made Wisconsin a great place to live, work, and raise a family. By investing at historic levels in our schools, Governor Walker is ensuring that every child has the educational opportunities they need to succeed. These ads are our way of saying job well done, and keep up the good work."
Background:
AFP-WI activists spent the spring canvassing Wisconsin neighborhoods with door hangers touting the role of Walker policies in lowering the state unemployment rate to an historic 2.8 percent.
Read ad script here:
Something exciting is happening in Wisconsin.
Unemployment is at an all-time low.  We're 2nd in the nation in growing manufacturing jobs.
We've cut taxes, grown our rainy-day fund, and family income and wages are growing.
It's all thanks to Scott Walker's pro-growth policies.
Under Walker, our state is investing at historic levels in our schools.
His bold reforms are making sure every child has access to the education they need to succeed.
Thank you, Governor Walker.