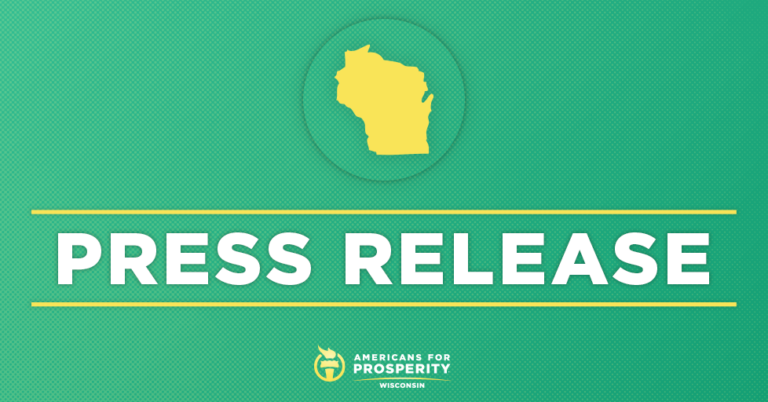 Americans for Prosperity-Wisconsin Congratulates Newly Elected and Re-Elected State Lawmakers
MADISON, Wis. – Americans for Prosperity-Wisconsin (AFP-WI) today released a statement congratulating the newly elected and re-elected state lawmakers who earned the support of the grassroots organization. Through a variety of tactics—including its signature grassroots, direct-mail, and digital advertisements— AFP-WI proudly supported State Senate candidates Rob Hutton, Sen. John Jagler, Sen. Howard Marklein, Rep. Rachael Cabral-Guevara, Rep. Jesse James, and Romaine Quinn and State Assembly Candidates Joy Goeben, Rep. Gae Magnafici, Rep. Clint Moses, Rep. Shannon Zimmerman, Ellen Schutt, Rep. Calvin Callahan, Rep. William Penterman, Rep. Jon Plumer, Rep. Tony Kurtz, Nate Gustafson, Ty Bodden, Angie Sapik, Chanz Green, and Nik Rettinger.
AFP-WI State Director Eric Bott released the following statement:
"AFP-WI is proud to congratulate these hardworking candidates on their election and re-election to the Wisconsin State Legislature. Their commitment to commonsense policy reforms will put Wisconsin on the right path to fight inflation, get our economy back on track, and empower parents to choose the best education for their kids. The group also thanks its dedicated activists for their tireless efforts in supporting these principled candidates for State Senate and State Assembly."
Background:
During this election cycle, AFP-WI, supporting several candidates, and AFP Action, supporting Ron Johnson, made more than 800,000 door knocks. AFP-WI oversaw the largest direct mail effort in the state this cycle, with over 12 million pieces of mail, and a seven-figure targeted digital campaign ahead of November's general election.