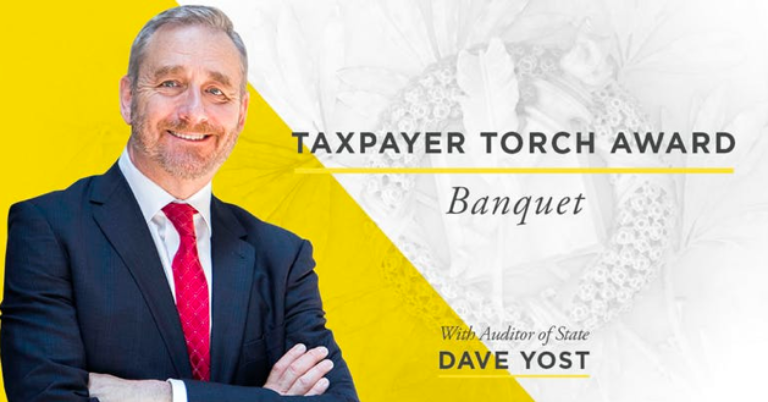 Americans for Prosperity to present 'Taxpayer Torch Award' to Auditor of State Yost
Grassroots advocacy group holds banquet to recognize Yost's efforts in transparency, responsible government
COLUMBUS, Ohio— Americans for Prosperity-Ohio (AFP-OH) will present its 2018 Taxpayer Torch Award to Auditor of State Dave Yost on Thursday, June 21 at the Emidio & Sons Banquet Center in Cuyahoga Falls. The grassroots advocacy group will recognize Yost's efforts in rooting out millions in Medicaid fraud and advocating for increased transparency of the pseudo-private entity, JobsOhio.
AFP-OH State Director Micah Derry had this to say about the event:
"Auditor Yost has been a true champion of our shared ideals of limited, accountable, and transparent government. His efforts have saved hardworking taxpayers millions of dollars, given them greater access to their government, and shone the light on where hard-earned taxpayer dollars are going. I can think of no one better suited to receive our 2018 Taxpayer Torch Award."
Ohioans can join Americans for Prosperity staff and activists as they present the award to Auditor Yost at a banquet in his honor in Cuyahoga Falls later this month. Admission is free and A buffet dinner will be provided ahead of the scheduled program.
Those interested in attending this event can register HERE or by going to https://afpohiotorchaward.eventbrite.com.
Full event details:
WHAT: Americans for prosperity-Ohio 2018 Taxpayer Torch Award Banquet
WHEN: Thu, June 21, 2018, 5:30 p.m. – 7:30 p.m. EDT
WHERE: Emidio & Sons Banquet Center, 48 East Bath Road, Cuyahoga Falls, OH 44223
Auditor of State Dave Yost Bio:
Elected to a second term in November 2014, Auditor Dave Yost continues to build a legacy of fighting fraud and "skinny-ing down" government. Since 2011, he's helped to turn more than 150 corrupt public officials into convicted criminals and identified more than $22 million in stolen and misspent tax money. After taking on student attendance data rigging in his first term, Auditor Yost is currently working to bring increased accountability to Ohio's charter schools. Auditor Yost also helps state government, local communities and schools in becoming more efficient through performance audits, which have identified more than $257 million in potential savings. Yost earned his undergraduate degree from The Ohio State University and law degree from Capital University. After working as a Columbus Citizen Journal reporter, Auditor Yost then moved into public service as Delaware County's Auditor and Prosecutor. He and his wife, Darlene, make their home in Franklin County. They have three adult children and three grandchildren.