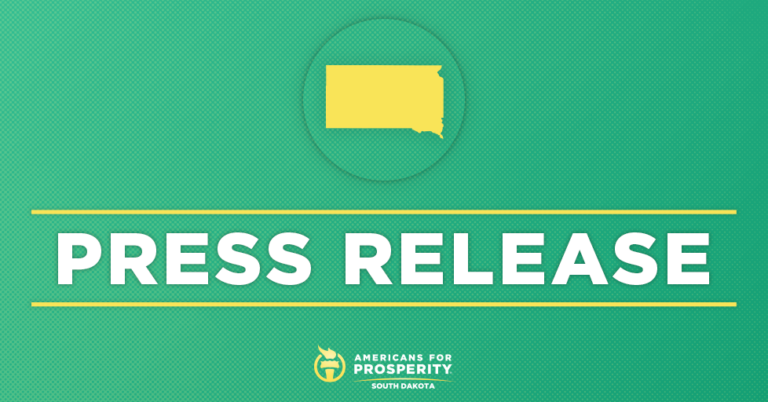 Americans for Prosperity Reiterates Pro-Trade, Anti-Tariff Priorities
Grassroots group highlights multi-year, multi-million-dollar campaign to promote trade, combat tariffs
PIERRE, S.D.—Americans for Prosperity-South Dakota (AFP-SD), one of 36 nationwide chapters of Americans for Prosperity, highlighted a new multi-year, multi-million-dollar initiative campaign from Freedom Partners Chamber of Commerce, the LIBRE Initiative, and Americans for Prosperity, to champion the far-reaching benefits of trade and oppose tariffs and other barriers to it. The grassroots group also reiterated the importance of trade to South Dakota and its economy.
AFP-SD State Director Don Haggar had this to say about the effort:
"With agriculture being one of the biggest drivers of South Dakota's economy, anything that moves to restrict our ability to trade our products is a non-starter for us. Not only would this be detrimental to our financial prosperity, it would put hardworking South Dakotans out of jobs and generally mean less opportunity and freedom for our friends and neighbors. At the end of the day, trade is a cornerstone to a free and open society, and we will not stand idly by to see it taken away."
The campaign, launched on Monday will include paid media, activist education and grassroots mobilization, lobbying and policy analysis – all intended to transform the way Washington and the rest of the country considers and values trade with other nations. The organizations released a list of trade principles and policy recommendations which the campaign will advance.
To supplement this effort in South Dakota, AFP-SD is launching a digital ad campaign aimed at educating citizens and encouraging them to contact their lawmakers, urging them to support pro-trade policies. You can view the effort (and contact your lawmakers!) here.
Additionally, AFP sent a letter on Wednesday to Senator Bob Corker (R-Tenn.) in support of legislation the senator introduced to require congressional approval of tariffs. The letter highlights the benefits of trade and the consequences of trade barriers. You can read the full release and letter here.
Background
Don Haggar's op-ed on trade, tariffs, and a possible trade war ran in the Capital Journal.
AFP, Freedom Partners and The LIBRE Initiative Urge White House to Abandon Harmful Tariff Policy in Official Comment to USTR