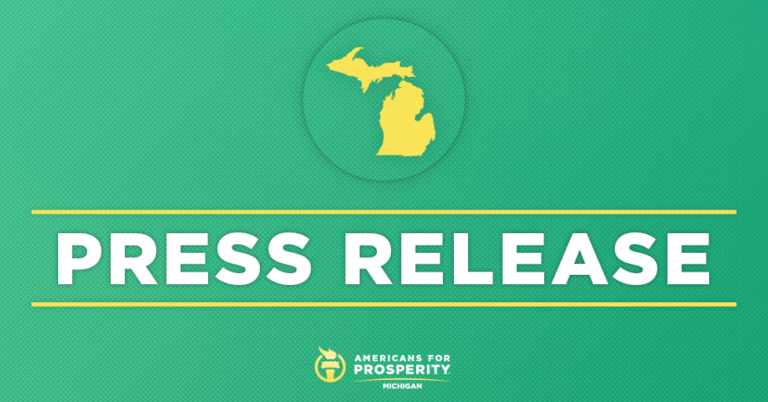 Americans for Prosperity-Michigan Endorses Tudor Dixon for Governor
"Michigan deserves a responsible and mature leader at the helm who can help us turn the corner from pandemic shutdowns," says group
Lansing, Michigan—Today Americans for Prosperity-Michigan (AFP-MI) endorsed Tudor Dixon's bid to become Michigan's next governor. The entrepreneur and mother of four earned AFP-MI's endorsement for her policy positions on fiscal responsibility, educational opportunity, and limiting big-government overreach.
As inflation skyrockets and consumers see more and more of their paychecks devoured by rising prices, Dixon will bring kitchen-table economics to Michigan with focused government spending and a plan to reduce individual tax burdens, offering necessary relief to taxpayers being squeezed by the Biden-Whitmer economy.
Michigan parents will appreciate her commitment to improve Michigan's education system by offering more options and opportunities to offer instruction tailored to students' individual needs. Lastly, Dixon has promised to defend against economically disastrous policies coming from the Biden Administration and work to ensure Michigan government is scaled to the people's ability to pay for it.
AFP-MI State Director Annie Patnaude made the following statement after the announcement:
"Michigan deserves a mature leader at the helm who can help us turn the corner from pandemic shutdowns and enter a renewed period of growth and revitalization that ensures our children and grandchildren can stay in our beloved state. Tudor Dixon is that leader. Dixon's policy agenda draws a stark contrast against Gov. Whitmer's policies that have sadly resulted in Michigan once again losing its people to other states.
"We are prepared to leave it all on the field in this race to push Tudor Dixon over the finish line and into the governor's mansion. Our efforts will include leveraging the nation's largest grassroots network to have deep conversations with voters on the phone and at the doors. Air support layered over those ground efforts will include mail, digital, radio and video."
Background
Tudor Dixon is a working mother of four with unparalleled knowledge of both Michigan's industrial sector and education system. A breast cancer survivor and entrepreneur, Dixon's background equips her to talk to Michiganders from all walks of life and to represent these diverse constituencies with compassion and maturity.
A first-time candidate, Dixon is a political outsider, prepared to battle with entrenched interests in Lansing and stand up for hardworking taxpayers. Her positions on government spending, executive overreach, education, and regulatory reform are exactly what Michigan needs.
-# # #-