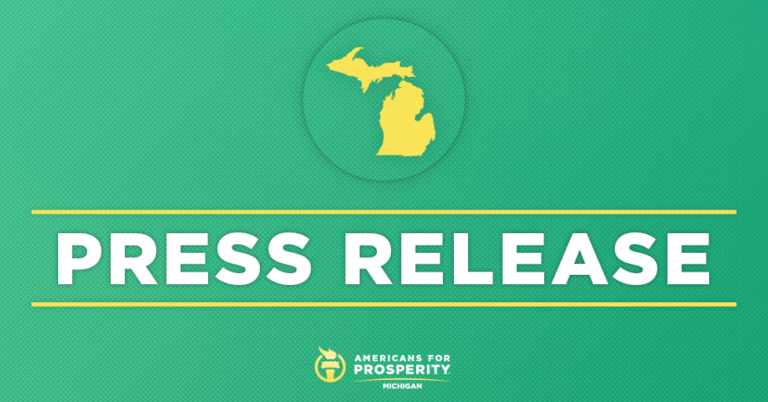 Americans for Prosperity Michigan Endorses State-Legislative Candidates, Sees Potential for Meaningful Impact
Lansing, MI – Americans for Prosperity Michigan (AFP-MI) today endorsed a wave of candidates for the Michigan legislature whose views and policy positions stand to empower Michiganders and properly address the state's most pressing issues. The AFP-MI backed candidates are:
(fmr.) Lynn Afendoulis (HD-81)
Timothy Beson (HD-96)
Jon Bumstead (SD-15)
Lisa DeKryger (HD-83)
Annette Glenn (SD-35)
Tim Golding (SD-14)
Mike Harris (HD-52)
Tom Kuhn (HD-57)
Michelle Smith (HD-58)
Michael Webber (SD-09)
Pamela Hornberger (SD-12)
Jim DeSana (HD-29)
"Against the backdrop of a growing federal government, now more than ever, we need leaders in Lansing who will commit to policies that advance freedom and increase opportunities for hard-working Michiganders," said AFP-MI State Director Annie Patnaude.
"It's a pivotal time for families in Michigan, and we're confident these individuals will promote policies that break down barriers to strengthen our economy and reduce the burden of government in our daily lives. This is why we're proud to endorse these candidates, as well as continue our support for the other candidates AFP-MI endorsed in the primary." she said.
BACKGROUND
Former Rep. Lynn Afendoulis (HD-81)
Having previously served one term in the State House, Lynn Afendoulis has a solid track record of fighting for Michigan families and businesses. She has supported regulatory reform to reduce burdens on small businesses and has backed fiscally responsible budgets and policies. She's also opposed new taxes and has voted against new taxes that would take more money from hard-working Michiganders.
Rep. Timothy Beson (HD-96)
Rep. Timothy Beson has proven to be a champion for small businesses and fiscal sanity in his first term as a state representative. As a small business owner, Beson understands how a burdensome regulatory environment can damper growth. He is a vocal opponent of government picking winners and losers with subsidies and handouts. He's also supported educational freedom reforms such as "Let MI Kids Learn" student scholarships and has voted for critical health care policies that increase coverage and reduce costs.
Sen. Jon Bumstead (SD-32)
A champion for Michigan small businesses and hard-working Michiganders, Sen. Jim Bumstead is an ardent opponent of government waste, having voted against most tax subsidies during his Senate tenure. He's also a strong opponent of cronyism and corporate welfare and supports educational freedom initiatives such as the "Let MI Kids Learn" student scholarships.
Lisa DeKryger (HD-83)
As a small business owner, Lisa DeKryger is intimately familiar with the rising costs of goods and the issues in her local community. She also has a deep understanding of how a complex regulatory system can hinder small businesses. She has an excellent reputation in the community for her commitment to creating a better education system.
Rep. Annette Glenn (SD-35)
Serving her third term in the Michigan House, Rep. Annette Glenn has proven to be a reliable vote in favor of breaking barriers and empowering individual choice in health care and education. She co-sponsored legislation that would have decreased health care costs by providing more telehealth options for consumers and has supported Certificate of Need (CON) reform bills to increase access at lower costs. She also supported reducing unnecessary small business regulations and opposed gas tax increases.
Tim Golding (SD-14)
A newcomer to politics, Tim Golding has all the makings of a thoughtful legislator with a will to empower hard-working Michiganders, their families, and business. A small business owner, Golding understands how an overbearing state government can impede economic growth and progress in the community. Active in his local community, Golding is passionate about providing a quality education for every child and will play a critical role advancing educational freedom in the State House.
Rep. Mike Harris (HD-52)
After winning his district's special election in May, Rep. Mike Harris has proven to be a leader on common-sense policies during his short time in office. His support for occupational licensing reform that allows more Michiganders to work and enthusiasm behind educational freedom reform exemplifies a legislator eager to alleviate the government burdens that hinder economic growth and opportunities.
Tom Kuhn (HD-57)
Even though Tom Kuhn is a newcomer to state politics, he's been a staple in the district, serving the community in a variety of community service roles. As county commissioner, Kuhn understands the impact of heavy-handed tax-and-spend policies. In his work with the local community college, Kuhn has seen how a student's primary education can impact future success and has expressed support for creating more educational opportunities for all students to improve outcomes for every student.
Michelle Smith (HD-58)
Michelle Smith is a small business owner who understands that getting government out of the way it the best way to improve Michigan. She is a strong supporter of empowering students and parents with more education options. When it comes to increasing workforce participation, she has voiced support for reducing occupational licensing requirements. She's also opposed to excessive tax-and-spend policies and supports phasing out Michigan's income tax.
Rep. Michael Webber (SD-09)
As one of the state's leaders on criminal justice reform, Rep. Michael Webber has shown thoughtfulness and an ability to build meaningful coalitions. His support for regulatory reform, as well as educational freedom, are just as encouraging. We're looking forward to seeing what he can accomplish as a state senator.
State Sen. Pamela Hornberger (SD-12)
State Sen. Pamela Hornberger is running for reelection to Michigan's 12th Senate District. She serves as chair of the Education Committee and will likely use her position to advance the creation of education savings accounts for Michigan's students. She also champions worker freedom and the right to work, as well as removing barriers that make it harder to enter well-paying professions.
Jim DeSana (HD-29)
Jim DeSana is running to represent Michigan's 29th House District. If elected, voters can expect DeSana to be a fiscal watchdog. By keeping Lansing accountable to taxpayers and forcing the state to live within its means, DeSana will help reduce the size of government. He'll also oppose corporate welfare that picks winners and losers while making taxpayers foot the bill. A farmer by trade, voters can trust that he will look out for small businesses and help reduce regulations that get in the way of entrepreneurs.
-end-