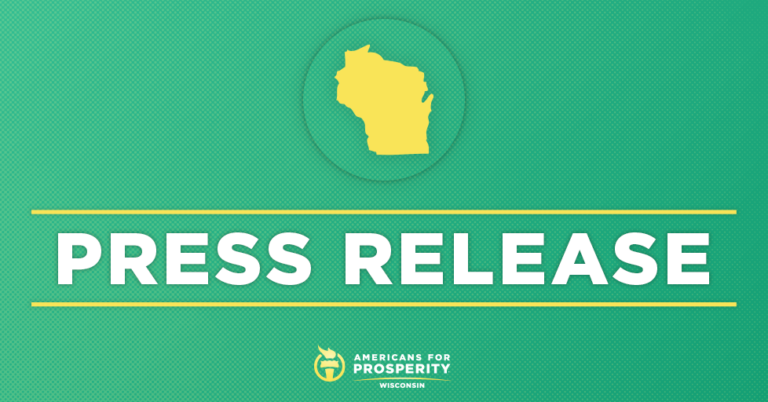 Americans for Prosperity Launches Robust Grassroots Thank You Campaign for Legislators' Leadership Amid Major Budget Battle
MADISON, WI—Americans for Prosperity-Wisconsin (AFP-WI) today announced its expansive grassroots campaign to thank legislators who fought for Wisconsin taxpayers, businesses, and families during this year's major budget battle. Wisconsin legislators worked tirelessly to pass a strong, fiscally conservative budget, which includes one of the largest income tax cuts in state history—putting more money back in the pockets of hardworking families.
The first wave of this grassroots campaign will cover at least ten legislative districts across the state where policymakers stood up for their constituents and showed leadership to make the budget sound prior to its passage. The robust, layered investment will include AFP-WI's signature door-to-door outreach supplemented with paid media.
AFP-WI State Director Eric Bott issued the following statement:
"Wisconsinites across the state deserve to know how principled legislators worked to improve our state budget and protect taxpayers, students, and families. Governor Evers sent the legislature a budget that failed Wisconsinites. He pushed for massive tax hikes, out-of-control spending on political pet projects at our expense, and education policies that would have failed our students.
"Thankfully, we have principled policymakers in the legislature willing to stand up for Wisconsin families. Thanks to their hard work and willingness to lead, Wisconsin now has a budget that cuts taxes, reins in wasteful spending, and prioritizes our student success. Our grassroots activists are excited to get to work and properly thank these legislators for making this sound, responsible budget a reality."
Background:
Following Gov. Evers' signing of the biennial budget, AFP and MacIver Institute highlight Legislature's commitment to tax relief.
In June, Americans for Prosperity called for the passage of a fiscally responsible budget.
In February, Americans for Prosperity responded to Gov. Evers' budget proposal, urging fiscal restraint.