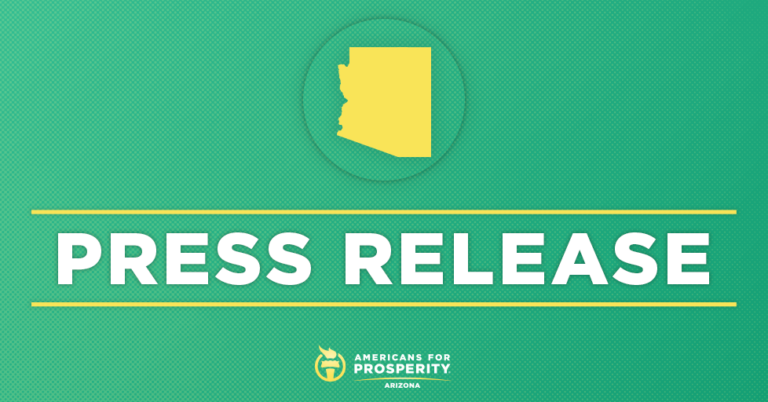 Americans for Prosperity Launches New Arizona Campaign Against Drug Price Controls
The new six-figure effort comes as Congress prepares to revive drug price control provision included in last year's failed "Build Back Better" plan.
PHOENIX, AZ. – Americans for Prosperity launched a new digital ad campaign urging Arizonans to oppose congressional attempts to impose government price controls on prescription drugs.
A new 30-second video highlights the Biden administration's lack of preparedness on COVID-19 testing, explaining that the officials who dropped the ball on testing should not be entrusted with something as important as the medications millions of people rely on to stay healthy.
The spot will run on digital channels statewide for the next month.
Click here to watch the ad.
Americans for Prosperity – Arizona State Director Stephen Shadegg released the following statement:
"One has to look no further than the Biden administration's failed attempts to manage COVID-19 testing to see the disastrous impacts of government-run health care. The price control measures Congress is considering would slow the development of new drugs and hurt Arizonans. Americans for Prosperity is urging our elected representatives in Washington to oppose this devastating government overreach."
Another series of ads will target Rep. Tom O'Halleran (AZ-1) and 7 other House members who last year voted for price controls as part of President Biden's "Build Back Better" bill. The ads warn lawmakers against doubling down on their previous vote.
Click here to view a sample ad.
Background
Polling shows that voters have significant concerns over drug price controls when their true impact is understood. A YouGov/AFP survey found that just 32% of voters said the government should strictly control the price of prescription drugs if it leads to drug shortages or fewer new drugs coming to market in the future.
A Kaiser Family Foundation survey  found that 65% of voters oppose price controls if it means less research and development of new drugs. And that's exactly what experts say will happen.
And a study by University of Chicago economist Tomas Philipson found that price controls would not just slow down drug development but essentially stop it altogether. Philipson's analysis projects that pharmaceutical research and development spending would decline between 29.9% and 60% under the plan. That's equivalent to a decline of between $952 billion and $2 trillion. As a result, Philipson estimates that over the next 20 years as many as 342 new drugs would never be developed. To put that in context, in the last 20 years the FDA has approved a total of 644 new drugs.