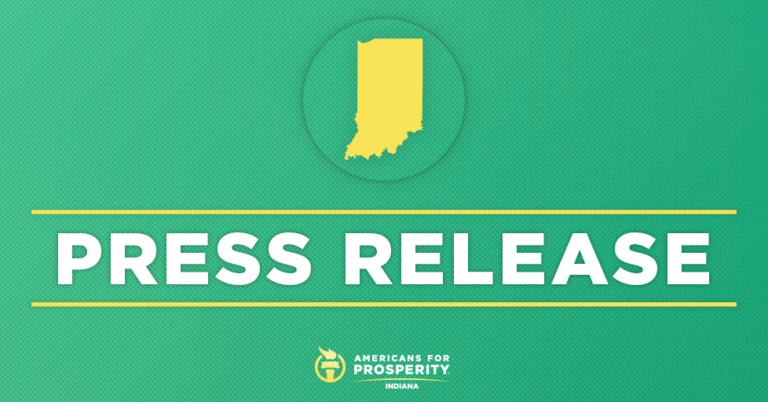 Americans for Prosperity-Indiana Congratulates Newly Elected and Re-Elected State Lawmakers
INDIANAPOLIS, Ind. – Americans for Prosperity-Indiana (AFP-IN) today congratulated the newly elected and re-elected state lawmakers who earned the support of the grassroots organization: Sen. Mike Gaskill (SD-25), Sen. Kyle Walker (SD-31), Rep. Martin Carbaugh (HD-81), Rep. Dale DeVon (HD-05), Speaker Todd Huston (HD-37), Rep. Doug Miller (HD-48), Rep. Jake Teshka (HD-07), Scott Alexander (SD-26), Spencer Deery (SD-23), Craig Haggard (HD-57), Dave Hall (HD-62), Tyler Johnson (SD-14), and Kyle Pierce (HD-36).
The grassroots group made nearly 400,000 door knocks and phone calls on behalf of these candidates. These efforts were layered with direct-mail and digital advertisements.
AFP-IN State Director Josh Webb issued the following statement:
"We commend our activists on their tireless efforts to elect policy champions who will represent the best interests of Hoosiers. These principled leaders know, firsthand, the biggest issues facing Indiana families and businesses and will fight to break barriers and put our state on a path toward greater opportunity. AFP-IN is thrilled to congratulate these candidates on their victories and look forward to working with them to pass meaningful policy reforms across the state."
Background:
Americans for Prosperity-Indiana Backs Kyle Walker for Indiana State Senate, 8/18/22
Americans for Prosperity Endorses Dave Hall for Indiana House of Representatives, 6/28/22
Americans for Prosperity Launches Second Wave of State Legislative Endorsements, 3/15/22
Americans for Prosperity-Indiana Announces 2022 State Legislative Endorsements, 2/22/22