Please select your state
so that we can show you the most relevant content.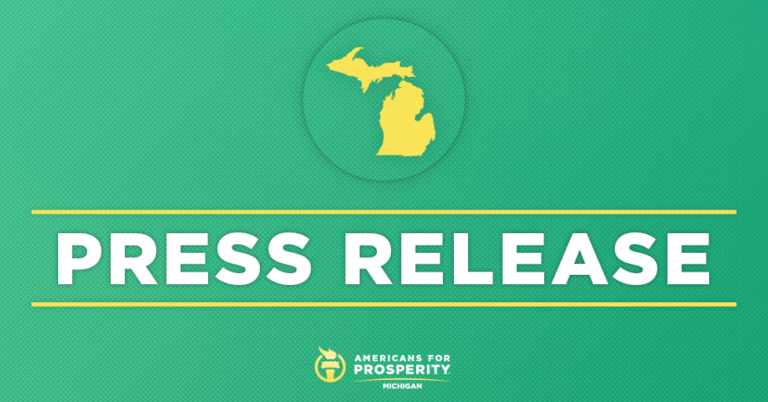 Americans for Prosperity Calls on Michigan Congressional Delegation to Hold Public Town Halls Ahead of Infrastructure Votes
"Michigan taxpayers have a right to have their opposition heard." 
LANSING, MI — Americans for Prosperity – Michigan (AFP-MI) today urged members of the state's Congressional Delegation to hold public town halls across the state so constituents have a chance to voice their concerns about the massive amount of new spending being considered in Washington under the guise of infrastructure needs.
AFP-MI State Director Annie Patnaude released the following statement: 
"Congress is poised to vote on more than $4 trillion in new spending. Our representatives in Washington ought to consider holding public town halls ahead of these votes so the people of Michigan have a chance to raise their concerns about unprecedented levels of spending and debt, not to mention new taxes that will hurt our job creators. The proposals under consideration are full of giveaways to Washington special interests, and Michigan taxpayers have a right to have their opposition heard.
"Curated virtual events, tightly-controlled news conferences, and closed district offices are shutting out debate over the proposed Washington takeover of America's economy. That's not acceptable to the people of Michigan. We will continue to urge Michiganders to make their voices heard and let their lawmakers know they should reject these trillion-dollar spending bills."
Background:
Americans for Prosperity's campaign, "End Washington Waste: Stop the Spending Spree," has led to more than 1 million letters to elected officials urging them to oppose the $4+ trillion combined "infrastructure" package. In Michigan, hundreds of activists have hit thousands of doors to help signal to lawmakers that Americans want a better path forward. Instead of massive new spending, AFP has advocated an alternative approach that focuses on empowering individuals, families, and businesses and rebuilds physical infrastructure by:
Preserving federal dollars for targeted construction projects of a national priority.
Ending the practice of spending gas tax revenues on non-highway projects.
Unleashing private investment in infrastructure assets.
Returning power and responsibility to the states wherever possible.
Overhauling the regulatory and permitting system to modernize infrastructure reviews and reduce project costs.
Eliminating costly and unfair labor restrictions.
© 2023 AMERICANS FOR PROSPERITY. ALL RIGHTS RESERVED. | PRIVACY POLICY