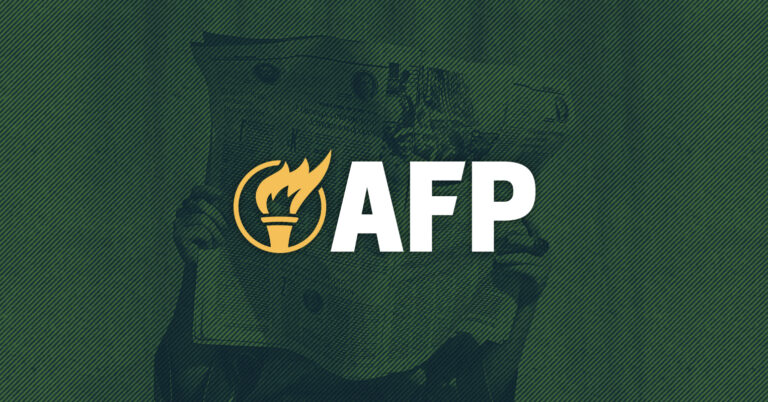 AFP's Stop Overspending Campaign Urges Sen. Murkowski to Cut Spending, Support Rescission
ANCHORAGE, Alaska – Following the House passage of H.R. 3, the Spending Cuts to Expired and Unnecessary Programs Act, Americans for Prosperity-Alaska (AFP-AK) are running digital ads urging Sen. Murkowski to approve the bill that would save taxpayers about $15 billion in unspent funds from previous years.
Sen. Murkowski initially opposed the measure in April claiming, "I just don't think we need it. We had a budget agreement." Two weeks ago, Sen. Murkowski, who chairs the Senate Appropriations Interior-Environment Subcommittee questioned the role of the White House stating, "This is what we do as appropriators, so the fact that the administration is kind of coming in and swooping in to the legislative role and the appropriators' role more directly…is this what we want to do?" she asked. "I don't have a problem saying that I don't think this is their authority." The rescission process was instituted by the Congressional Budget and Impoundment Control Act of 1974 and between 1974 and 2000, presidents submitted 1178 rescission proposals totaling $76 billion, of which Congress accepted 461 totaling $25 billion.
In an interview with Fairbanks Daily News-Miner on increasing the debt ceiling in 2013, Sen. Murkowski admitted spending cuts were "critical." On her official website, Sen. Murkoswki notes, "Congress must reduce overall spending levels," describing our national debt as a threat to our stability as a country. She voted to approve the $1.3 trillion omnibus bill passed in March.
The digital ads, which targets a large swath of Republican and Democrat senators, is a continuation of AFP's long-term Stop Overspending campaign. AFP launched a similar effort earlier this month urging House members to support the bill.
AFP-AK State Director Jeremy Price issued the following statement:
"Congress gave the president the authority to propose rescissions and it would be disappointing if a turf war prevented Sen. Murkowski from doing what's right. The rescission bill put forward by the President and approved by the House is a very modest but necessary first step toward finally getting spending under control.
"While it's important to direct critical resources back to our great state, it's also important to balance that with addressing the ever-growing national debt. Support for the president's rescission bill would be a good place to start and we encourage Sen. Murkowski to seize this opportunity to reduce unnecessary spending."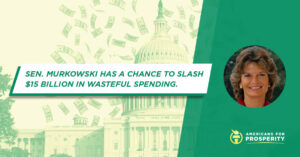 While tax reform was a significant achievement for hard-working Americans, AFP has long-advocated the importance of pairing tax cuts with spending restraint to grow the economy and improve the lives of all Americans. Unchecked spending in Washington threatens to undermine economic growth.
AFP's digital ads encouraging support for rescission started Tuesday and also focus on Shelley Moore Capito (R-WV), Dean Heller (R-NV), John Hoeven (R-ND), Roy Blunt (R-MO), Jerry Moran (R-KS), Mike Rounds (R-SD), Marco Rubio (R-FL), John Thune (R-SD), Richard Shelby (R-AL), and Roger Wicker (R-MS) and Democrat Senators Tammy Baldwin (D-WI), Sherrod Brown (D-OH), Bob Casey (D-PA), Joe Donnelly (D-IN), Martin Heinrich (D-NM), Heidi Heitkamp (D-ND), Doug Jones (D-AL), Tim Kaine (D-VA), Joe Manchin (D-WV), Bill Nelson (D-FL), Tina Smith (D-MN), Claire McCaskill (D-MO) and Jon Tester (D-MT).
The launch of AFP's "Stop Overspending" campaign over Memorial Day recess included robust digital, direct-mail, print, and radio advertising in congressional districts across the country. President Trump's $15.3 billion rescission plan proposed earlier this month presents an opportunity for lawmakers to demonstrate fiscal responsibility by supporting this modest attempt to undo some of the overspending damage.
BACKGROUND:
AFP Launches Major Campaign Against Wasteful Government Spending
Stop Overspending Campaign Urges House to Support Rescission