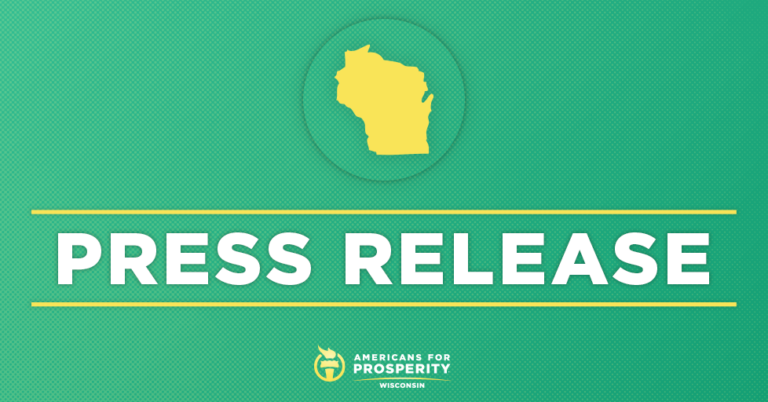 AFP-WI to Assembly: Pass Expungement Reform Now
MADISON, Wis. – Americans for Prosperity-Wisconsin (AFP-WI) urged the Assembly to pass The Pathways to Employment Act (AB 33) in advance of Wednesday's floor vote. Assembly Bill 33, authored by Representatives Steffen and Goyke and Senators Darling and Risser, would make smart and meaningful reforms to our state's current expungement process to help more people get back on their feet after completing their sentences and remaining crime free.
AFP-WI State Director Eric Bott issued the following statement:
"Wisconsin's restrictive expungement laws pose an unnecessary barrier to returning citizens who are eager to get back on their feet, reenter civic life, and be contributing members of society. Denying individuals with criminal records access to jobs, housing, education and even professional licensing makes them more likely to reoffend. Expungement reform would open doors to opportunity for folks across Wisconsin and help recognize returning citizens for what they are – wells of untapped potential."
AFP-WI recently launched a direct mail and digital campaign encouraging Wisconsinites to contact elected officials who have led on policies to reform the criminal justice system during the 2019 legislative session and urge continued action around these important reforms.
The campaign highlighted Rep. Evan Goyke, Rep. David Steffen, and Sen. Alberta Darling's leadership on criminal justice reform and thanked them for introducing the Pathways to Employment Act.
The group also recently announced a wave of grassroots lobbying efforts that includes canvassing communities throughout Wisconsin and educating them on criminal justice reform.
Background:
AFP-WI Backs Expungement Reform Bill (1/29/19)
AFP-WI: Senate Should Support Second Chances (2/2/19)
AFP-WI Closes Out Second Chance Month with New Campaign (4/23/19)
AFP-WI Announces Next Wave of Grassroots Lobbying Efforts (5/2/19)
For further information or an interview, reach Lorenz Isidro at LIsidro@afphq.org or (703) 887-7724. 
Through broad-based grassroots outreach, Americans for Prosperity (AFP) is driving long-term solutions to the country's biggest problems. AFP activists engage friends and neighbors on key issues and encourage them to take an active role in building a culture of mutual benefit, where people succeed by helping one another. AFP recruits and unites Wisconsinites behind a common goal of advancing policies that will help people improve their lives. For more information, visit www.americansforprosperity.org
###