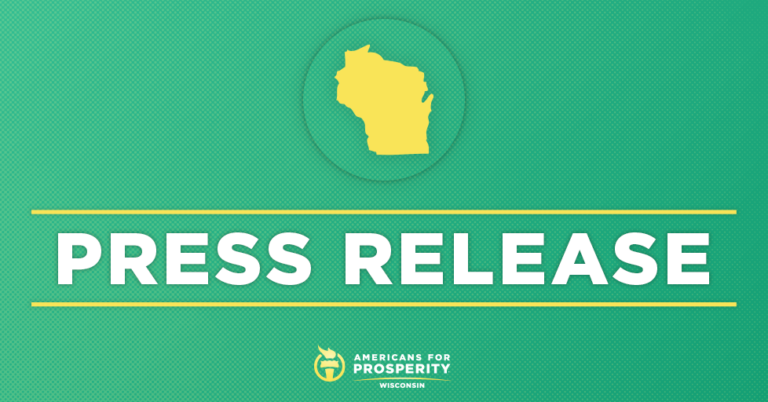 AFP-WI Launches Labor Day Weekend Campaign Thanking Johnson, Kind for Prioritizing Fiscal Responsibility
Grassroots group encourages Sen. Johnson and Rep. Kind to continue working to stop reckless spending
MADISON, Wis. – Americans for Prosperity-Wisconsin (AFP-WI) today launched a new direct mail and digital effort thanking Sen. Ron Johnson and Rep. Ron Kind for taking a principled stand for fiscal responsibility by voting against the Bipartisan Budget Act of 2019, and encouraging them to continue fighting against Washington's reckless spending.
This campaign comes as the August recess draws to a close and lawmakers prepare to return to Washington to work on the 12 annual must-pass appropriations bills. The direct mail and digital ads follow a month-long effort by AFP-WI to visit congressional district offices urging lawmakers to rein in spending and reject harmful policies like tax extenders and the reauthorization of the Export-Import Bank.
View an example of the direct mail here
View an example of the digital ads here
"Reckless budgeting shows a blatant disregard for the hard-earned tax dollars of Wisconsinites and jeopardizes our country's economic prosperity for generations," said AFP-WI State Director Eric Bott. "The upcoming spending bills are an opportunity for lawmakers to prove that they take seriously the challenge of setting course for an American economy that helps all families not just make ends meet, but prosper. We thank Sen. Johnson and Rep. Kind for their stand for fiscal responsibility and hope they and their colleagues work to safeguard our economic future this fall."
AFP opposed the Bipartisan Budget Act of 2019 as it moved through Congress and urged President Trump to veto the measure in order to send Congress back to the drawing board. The deal raises spending levels by $320 billion and extends the debt limit until at least 2021, adding nearly $2 trillion to the national debt over the next 10 years. It puts the federal government on a path to see the "worst-case" scenario projected by the CBO.
AFP-WI is urging citizens to contact Sen. Johnson using digital ads and Rep. Ron Kind using a mix of digital ads and direct mail.
The ad campaign, which is part of a broader effort across the country, also seeks to thank other members who have stood strong against wasteful spending: Senators Bill Cassidy (R-LA), Ted Cruz (R-TX), Steve Daines (R-MT), Corey Gardner (R-CO), Ron Johnson (R-WI), Mike Lee (R-UT), Rand Paul (R-KY), Thom Thillis (R-NC), Joe Manchin (D-WV), and Michael Bennet (D-CO) and Representatives Ted Budd (R-NC), Darin LaHood (R-IL), Steve Chabot (R-OH), Warren Davidson (R-OH), Tom Emmer (R-MN), George Holding (R-NC), Jim Jordan (R-OH), Mark Meadows (R-NC), Greg Steube (R-FL), Scott Tipton (R-CO), Joe Cunningham (D-SC), Ron Kind (D-WI), Ben McAdams (D-UT), Stephanie Murphy (D-FL), and Josh Harder (D-CA).
Background:
AFP Urges President Trump to Veto Budget Deal If It Reaches His Desk (8/1/19)
AFP: Budget Deal is a Direct Path to the CBO's Worse-Case Crisis (7/23/19)
AFP Report: Looming Debt and Spending Crisis Threatens Standard of Living for All Americans (7/19/19)
For further information or an interview, reach Lorenz Isidro at LIsidro@afphq.org or (703) 887-7724. 
Through broad-based grassroots outreach, Americans for Prosperity (AFP) is driving long-term solutions to the country's biggest problems. AFP activists engage friends and neighbors on key issues and encourage them to take an active role in building a culture of mutual benefit, where people succeed by helping one another. AFP recruits and unites Wisconsinites behind a common goal of advancing policies that will help people improve their lives. For more information, visit www.americansforprosperity.org
###