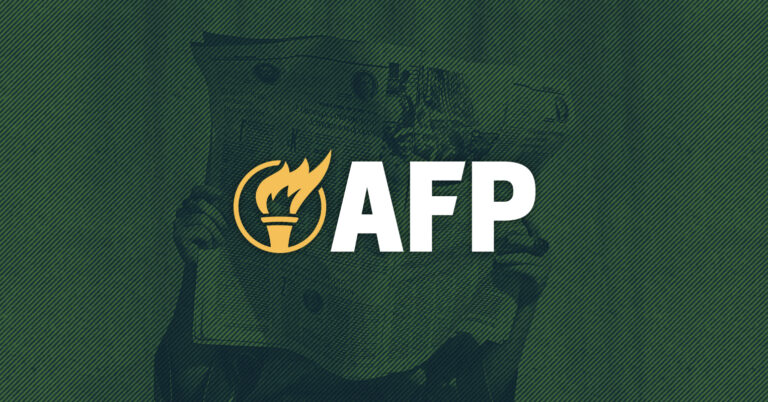 2021 election: Virginia voters want policies that empower them
Off-year elections when Congress and the White House are not up for grabs can be sleepy. Turnout often declines significantly.
That did not happen in 2021.
In Virginia, where the governor's mansion and the state House of Delegates were in play, voter turnout was higher than in any other gubernatorial election in the state since 1997.
Americans for Prosperity has 15 permanent Virginia field teams. These teams mobilized to educate voters in 13 House of Delegates districts and in the governor's race.
The efforts made a difference. Glenn Youngkin, whom AFP endorsed on October 7, was elected governor and the AFP-endorsed candidate prevailed in 10 of the 13 races where AFP had a presence.
While Washington lost touch, AFP listened.
AFP embedded in the community
Jason Stewart is AFP-Virginia's director of grassroots operations. He and his wife, a teacher, live in Richmond. Stewart said having a permanent presence on the ground ensures AFP has a keen understanding of the issues that motivate voters.
"We get to know the community," Stewart explained. "We know what worries people."
In the months leading up to the election, voters had talked more about rising prices, about how they would educate their children if schools shuttered again, and about how health care was getting harder to access.
Stewart said in Henrico County, where his wife teaches, education was top of mind for parents. But while national news stories attempted to tie concerns to race, Stewart said parents' anxieties reflected something else.
"Parents' concerns really were about getting kids in the classrooms and meeting the needs of each individual child," Stewart explained.
Because AFP staff live in the communities where they knock on doors, it was easier to appreciate the nuance to what voters were saying.
"We know that grassroots works," said AFP-VA State Director JC Hernandez. "It helps us to understand, in real time, what voters are talking about and it helps us talk to them at a deeper level."
Hernandez and Stewart said voters' responded to Youngkin because he also listened attentively to their concerns.
In AFP's October 7 endorsement, Hernandez said,
"Glenn Youngkin knows the policies it takes to make life more affordable and expand opportunity to all Virginians. We're ready to work day and night through the election to help him make that vision a reality."
And work AFP did.
Permanent grassroots infrastructure allowed AFP to organize quickly
Stewart said the October 7 endorsement was "like a shot in the arm."
People had been coming out in big numbers to volunteer before, "but when it became clear that we could have a true policy champion in the governor's seat, it was full-steam ahead."
With nearly 100 field staff and just as many volunteer activists, AFP made 1 million calls and knocked on 110,000 doors in the weeks leading up to Election Day.
In addition to its grassroots efforts, AFP executed a six-figure digital campaign that highlighted how misguided policies have increased the cost of living in Virginia.
The efforts made a difference in a critical election that should signal the direction voters want for the country.
One area AFP focused was in the suburbs. Staff and volunteer activists engaged voters who had cast ballots in federal elections, but who rarely voted in off-year contests.
AFP-VA State Director JC Hernandez said having a permanent structure allows the organization to "understand exactly where in the state we can make a difference."
He was right.
Here is how the elections website FiveThirtyEight described what happened in Virginia's suburbs last Tuesday:
"[O]ne of the biggest factors for Youngkin might have been his strong showing among suburban voters. According to exit poll data, Youngkin won 53 percent of these voters across the state, which is roughly the opposite of what happened in 2020."
These voters will be very important in next year's midterm elections. In 2022, AFP Action will reach out to these voters as it works nationwide to elect up to 10 U.S. Senate candidates, 40 U.S. House candidates, and 250 state lawmakers.
For now, AFP will continue to engage its activists and voters during the upcoming legislative session.
Turning election results into action
AFP-Virginia's team already has pivoted to how it can help translate last Tuesday's results into policy action.
Hernandez explained that over the next year Virginia lawmakers could consider efforts to expand educational choice, break down barriers to work, reform certificate-of-need laws, implement new mechanisms to drive health care innovation, and rewrite the state's tax code.
"Now it's time for the statehouse and governor to fulfill the will of the people," Hernandez said.
The results should send a message that Congress and the White House should back off the extreme policies they have been pushing.
AFP activists will be an important part of making sure they do, Stewart said.
"It's voters' voices that matter," Stewart argued. "When lawmakers get to hear directly from their constituencies, that's powerful. Politicians listen when people make their concerns known."