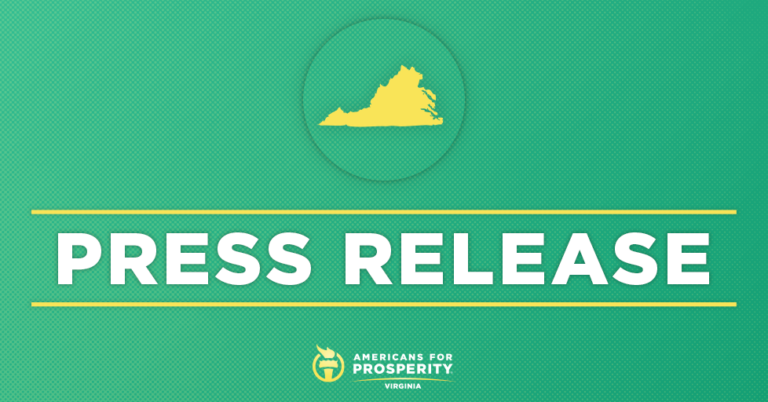 AFP-VA: Nothing Conservative About Expanding Medicaid
RICHMOND, VA – Americans for Prosperity-Virginia (AFP-VA) on Thursday sent a letter to lawmakers highlighting Office of Management Budget (OMB) Director Mick Mulvaney's recent statement opposing Medicaid expansion. OMB Director Mick Mulvaney said the President's budget repeals Medicaid expansion due to the "explosion of state and federal spending" and the "abundant evidence" showing new Medicaid recipients are not experiencing improved health outcomes. AFP-VA has spearheaded efforts opposing Medicaid expansion in Virginia and has pushed for state-based reforms that bring down costs for all Virginians.
"Director Mulvaney has reiterated what we already know – expanding Medicaid is a bad deal for taxpayers and program enrollees. Instead of pushing more able-bodied adults into a broken system, lawmakers should follow the administration's lead and establish a more fiscally prudent, outcome-driven program," said AFP-VA State Director JC Hernandez. "There are many tools for legislators to use in expanding access to quality care and bringing down health care costs for Virginians, but expanding Medicaid is not one of them. We urge the legislature to abandon this Medicaid expansion proposal and work on designing a program that protects our most vulnerable populations and our state's fiscal future."
Background:
Last week, AFP-VA held a joint press conference with members of Virginia's Conservative Caucus on as over 100 activists from across the state rallied against Medicaid expansion.
The grassroots group recently sent a letter to lawmakers expressing its disappointment in the House's budget proposal.
AFP activists have made tens of thousands of phone calls encouraging constituents to urge their legislators to vote against these dangerous bills. Virginians have also sent hundreds of emails directly to legislators urging them to vote against Medicaid expansion.
AFP-VA State Director JC Hernandez recently wrote an op-ed in the Richmond Times Dispatch that discussed ways to improve healthcare access in Virginia without expanding Medicaid.
For further information or an interview, reach Lorenz Isidro at LIsidro@afphq.org or (703) 887-7724. 
Americans for Prosperity (AFP) exists to recruit, educate, and mobilize citizens in support of the policies and goals of a free society at the local, state, and federal level, helping every American live their dream – especially the least fortunate. AFP has more than 3.2 million activists across the nation, a local infrastructure that includes 36 state chapters, and has received financial support from more than 100,000 Americans in all 50 states. For more information, visit www.americansforprosperity.org
###