Please select your state
so that we can show you the most relevant content.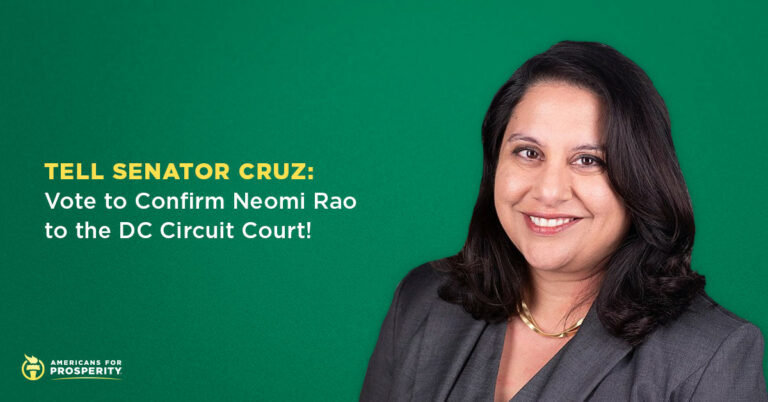 AFP to Senator Cruz: Support Neomi Rao!
DALLAS, Texas – Americans for Prosperity – Texas (AFP-Texas) launched digital and grassroots efforts encouraging Senator Ted Cruz to support the nomination of Neomi Rao to the U.S. Court of Appeals for the D.C. Circuit.
"Neomi Rao is extremely qualified to serve on the DC Circuit Court. Her experience indicates that if confirmed she will interpret the law as written and uphold the Constitution. Our network of activists across Texas are energized and mobilizing to encourage Senator Cruz to support her nomination," said AFP-Texas State Director Jerome Greener. "Senator Cruz has been a leader on the Senate Judiciary Committee and is clearly committed to ensuring qualified judges are seated on our courts. We respectfully encourage him to support Neomi Rao's nomination and work with his colleagues to ensure she is swiftly confirmed."
Background:
Neomi Rao is a former clerk for Supreme Court Justice Clarence Thomas and Judge J. Harvie Wilkinson on the U.S. Court of Appeals for the Fourth Circuit.
Rao was a professor at the Antonin Scalia Law School, where she later founded the school's Center for the Study of the Administrative State.
Prior to her nomination, Rao served as administrator of the Office of Information and Regulatory Affairs.
© 2023 AMERICANS FOR PROSPERITY. ALL RIGHTS RESERVED. | PRIVACY POLICY