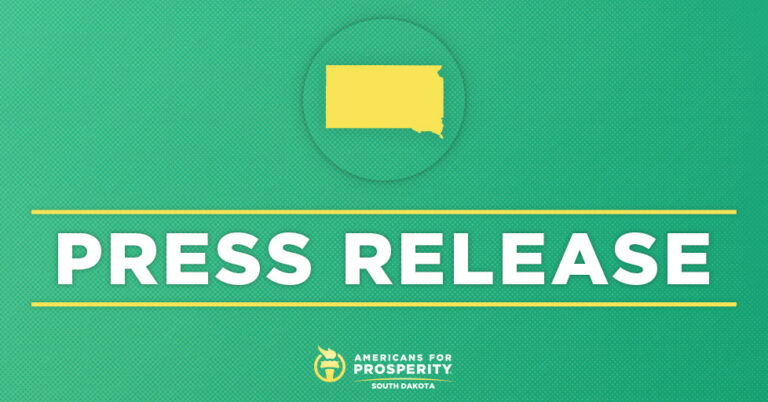 AFP-SD: Farm Bailouts Show Tariffs' Harm
Bailouts are wrong approach for damaging trade policy, grassroots group says
PIERRE, S.D. – Americans for Prosperity-South Dakota (AFP-SD) released the following statement in response to $12 billion in new government assistance for farmers negatively impacted by escalating tariffs between the U.S. and its global trade partners:
"Our farmers are the best in the world and are vital to our country's and South Dakota's economy. Yet, escalating tariffs are constraining the markets and customers abroad that are vital for our agriculture industry to prosper and thrive," said AFP-SD State Director Don Haggar. "Farmers want trade, not aid. Instead of giving farmers a taxpayer-funded bailout, the administration should remove these tariffs that are causing the damage in the first place. Additionally, Congress should reinstate its constitutional authority over trade as our Founding Fathers intended."
Background:
Recently, AFP applauded Sens. Mike Rounds, John Thune, and Rep. Kristi Noem for urging President Trump to protect U.S. agriculture products from existing and future tariffs.
AFP along with network partners Freedom Partners Chamber of Commerce and the LIBRE Initiative recently launched a multi-year, multi-million-dollar initiative championing the benefits of free and open trade.
To supplement this effort in South Dakota, AFP-SD launched a website and digital ad campaign aimed at educating citizens and encouraging them to contact their lawmakers and support pro-trade policies. You can view the website and contact your lawmakers, here.
Additionally, AFP, Freedom Partners Chamber of Commerce and the LIBRE Initiative sent a letter to legislators urging support of the Global Trade Accountability Act (S. 177/H.R. 5281) that would restore congressional authority to review and approve tariffs. You can read the letter here.
You can read AFP's trade principles here.