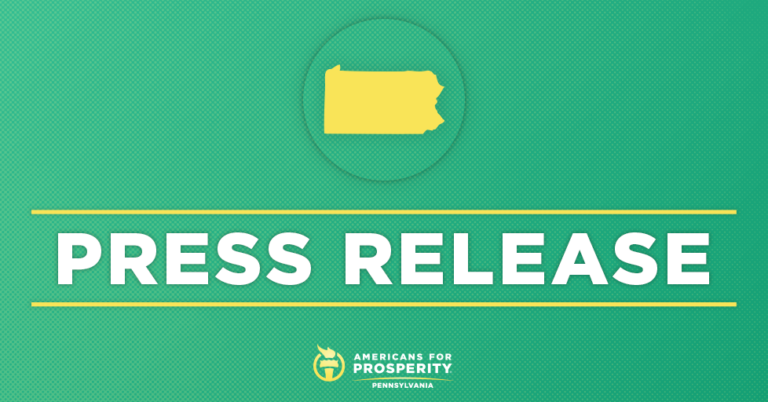 AFP-PA Kicks Off Campaign to "Unrig the Economy"
HARRISBURG, Pa.—Americans for Prosperity-Pennsylvania (AFP-PA) today highlighted its role as part of an integrated, comprehensive campaign to build a strong economy by leveling the playing field for all. Called "Unrig the Economy," this multi-year, multi-million-dollar campaign is part of a national effort that will harness the power of AFP's grassroots activists to drive change at both the state and federal level.
The first phase of the campaign in Pennsylvania kicks off with a robust direct mail and digital effort to stop the renewal of the so-called "tax extenders" and will be targeting Reps. Mike Kelly, Brendan Boyle, and Dwight Evans, who sit on the House Ways & Means Committee, and Sen. Bob Casey, who sits on the Senate Finance Committee. AFP believes that renewing special-interest tax giveaways on a temporary and often retroactive basis is bad tax, fiscal, and economic policy.
AFP-PA State Director Ashley Klingensmith issued the following statement:
"All Pennsylvanians deserve a level playing field where everyone is free to compete by the same set of rules. Unfortunately, too many laws and regulations on the books make this impossible. Government favoritism in the form of subsidies, special tax breaks, and regulatory barriers rig the game by picking winners and losers. Our activists are dedicated to eliminating the practice of government favoritism and we urge these lawmakers to work across party lines to reject 'tax extenders' and help give everyone the same shot at success."
Background:
In the coming days, AFP-PA will also be ramping up state-level efforts to advance HB 995, The Fighting Chance Act, a bipartisan regulatory reform bill that would reduce unnecessary burdens on small business owners seeking licensure as well as reformed offenders seeking to re-enter the workforce in a licensed occupation. The group will be using digital ads, phone banking, and texts to encourage members of the House state government committee to bring the bill up for a vote.
According to a recent Washington Post/ABC News poll, 62% of Americans said they thought the U.S. economic system mainly benefits those in power versus only 34% who said it mainly benefits all people. Belief that the economy is rigged is a longtime, widespread perception.
For further information or an interview, reach Lorenz Isidro at LIsidro@afphq.org or 703.887.7724 
Through broad-based grassroots outreach, Americans for Prosperity (AFP) is driving long-term solutions to the country's biggest problems. AFP activists engage friends and neighbors on key issues and encourage them to take an active role in building a culture of mutual benefit, where people succeed by helping one another. AFP recruits and unites Pennsylvanians behind a common goal of advancing policies that will help people improve their lives. For more information, visit www.americansforprosperity.org
###