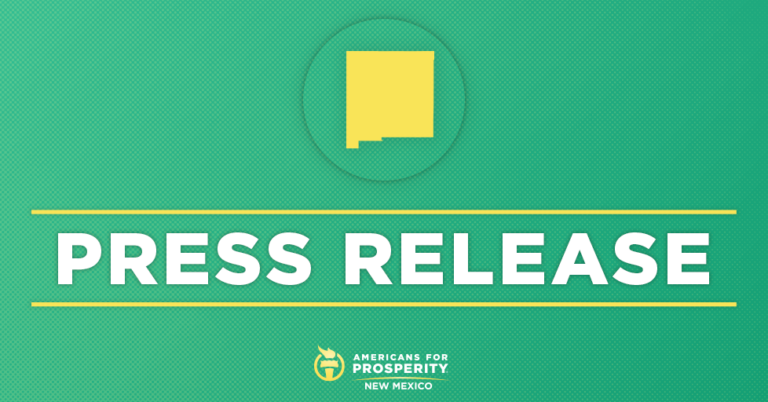 AFP-NM Encourages the Full Legislature to Re-Assert Constitutional Authority
SANTA FE, NM – Americans for Prosperity-New Mexico (AFP-NM) today urged state lawmakers to ensure the full legislative body has a say in extending and maintaining an emergency order. Two bills were introduced in the recent special session that attempt to address this – HB2 and SB3, although SB3 only requires legislative approval from House and Senate leadership.
Currently, all non-essential businesses are closed due to Governor Michelle Lujan-Grisham's executive order.
AFP-NM State Director Burly Cain issued the following statement:
"This crisis has shown the governor and executive branch can act unilaterally to shut down businesses and threaten New Mexicans' livelihoods. After nine months into this epidemic, there is no reason for the governor to be issuing emergency orders alone without the participation of the full chambers of the peoples' elected representatives and senators.

"It's past time the legislature re-asserts its constitutional authority to oversee and participate in the government's response to an emergency. We urge legislators to take up these bills in the 2021 legislative session, put politics aside and ensure they have a say in issuing, declaring, maintaining or ending a state of emergency.

"While these bills are a positive step toward implementing appropriate limitations on the executive's powers during times of crisis, we urge that the full legislative body, not just four legislators, share in the responsibility and duty to vote on extending emergency executive powers."
Background:
In 2003, in response to the 9/11 terrorist attacks, the New Mexico legislature overwhelmingly passed a bill, HB 231, that gave the executive branch broad powers to implement executive orders under a public health emergency. AFP believes it is past time to restore the proper constitutional balance and restrict the executive branch from unilaterally issuing broad powers without any restrictions on extending these executive powers.
At the outset of the pandemic, Americans for Prosperity released Recover Stronger: A Starting Point to Build An Economy that Works for All, a set of principles and recommendations that offers lawmakers a starting point to build a stronger economy as the country recovers from COVID-19.