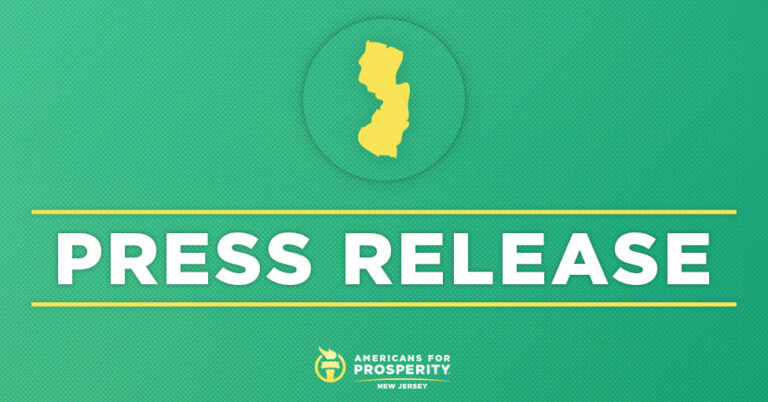 AFP-NJ Urges Governor Murphy to Tackle Cronyism, Pension Reform in Budget Address
TRENTON, N.J. – Americans for Prosperity-New Jersey (AFP-NJ) on Tuesday urged Governor Phil Murphy to reject tax hikes and root out corporate welfare and cronyism in advance of his budget address to the New Jersey legislature. The grassroots group has been at the forefront of pushing pro-taxpayer reforms that substantially reduce wasteful spending and corporate welfare, including rejecting a proposed $5 billion tax incentive package to lure Amazon to Newark.
Earlier this year, AFP-NJ released its 2018 State Policy Agenda that centers on addressing the state's pension crisis, reducing cronyism, and reforming the criminal justice system.
AFP-NJ State Director Erica Jedynak issued the following statement:
"Governor Murphy has a great opportunity to propose a budget that can begin the process of slowing our state's economic decline. Any attempt to impose on New Jersey residents burdensome taxes – through the millionaire's tax or otherwise –will only erode any benefits we're already seeing from federal tax reform and will cause even more businesses and families to flee the state. If policymakers can't pay the bills even with the incredibly aggressive tax rates currently in place, then maybe the problem isn't that we're not taxing enough.
"Gov. Murphy's Executive Order directing an audit of incentive programs is a great step toward unrigging our state's tax code and eliminating wasteful spending. Any attempt to lure Amazon with billions of taxpayer-funded subsidies only benefits the powerful at the expense of hard-working New Jersey residents.
"We can no longer kick the can down the road on pension reform. Our state's pension system ranks as the worst-in-the-nation for fiscal solvency, and it is a betrayal to future generations to ignore common-sense reforms that move our system towards private-sector style plans.
"With one of the country's worst tax climates, Gov. Murphy should be looking for ways to provide relief to taxpayers, not make things harder. We stand staunchly opposed to any plan that raises more than $1.5 billion in new taxes, whether it's raising the sales tax or income taxes on job-creators.
"Additionally, if Gov. Murphy wants to change the status quo of our terrible business climate, he should reject any bills that undermine efforts to expand worker freedom in New Jersey. The legislature and governor should respect the Supreme Court's upcoming decision on a landmark worker freedom case this year, Janus v. AFSCME. Right-to-work will lead to more opportunity and more jobs that our state desperately needs."
Background:
Governor Murphy has recently proposed a "millionaire tax" to solve the state's funding issues. AFP-NJ submitted a letter to the state legislature urging lawmakers to reject this new, aggressive tax.
Funding issues continue to plague New Jersey. A recent report found New Jersey has only funded 25.7% of its future pension obligations, and has the fourth-worst liabilities per capita in the nation at $27,806.
For further information or an interview, reach Lorenz Isidro at LIsidro@afphq.org or (703) 887-7724. 
Americans for Prosperity (AFP) exists to recruit, educate, and mobilize citizens in support of the policies and goals of a free society at the local, state, and federal level, helping every American live their dream – especially the least fortunate. AFP has more than 3.2 million activists across the nation, a local infrastructure that includes 36 state chapters, and has received financial support from more than 100,000 Americans in all 50 states. For more information, visit www.americansforprosperity.org
###