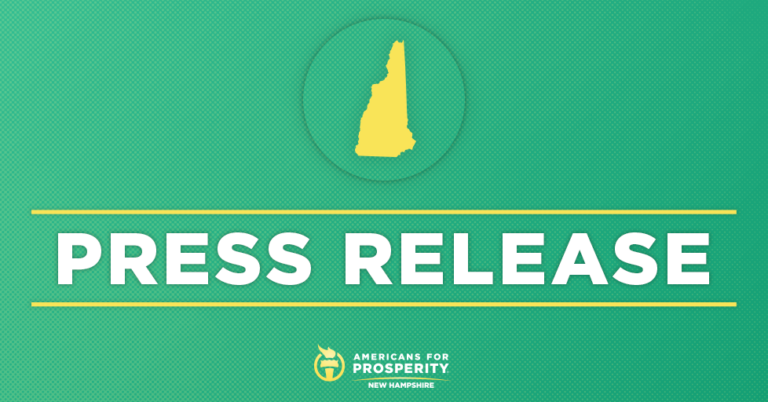 AFP-NH Rallies Granite Staters Against Unsustainable Spending, Infrastructure Proposals
Meredith, NH – Americans for Prosperity-New Hampshire (AFP-NH) announced it is hosting an End Washington Waste event Saturday to talk with activists about why New Hampshire's congressional delegation needs to oppose the so-called infrastructure bills.
As lawmakers continue to debate the so-called infrastructure package and Sen. Bernie Sanders' $3.5 trillion reconciliation "infrastructure" proposal, the Granite State's congressional delegation will be key in ensuring taxpayers and families aren't faced with trillions of dollars of more spending on partisan items paid for by historic tax increases.  In particular, Rep Chris Pappas, who sits on the House Transportation Committee and Sen. Maggie Hassan, who on the Senate Finance Committee, are a focus of these efforts.
AFP-NH State Director Greg Moore issued the following statement:
"Unlike Washington, New Hampshire knows how to practice fiscal discipline and not pass unaffordable, bloated packages that drive up debt and tax hikes that destabilize our economy.  Senator Hassan and Representative Pappas used to serve in state government and should know better. Granite Staters know that the key to economic growth and opportunity is what our state prioritizes – fiscal responsibility, a pro-growth tax code, and regulatory reforms that remove barriers for small businesses to thrive.

"Instead of following the proven path we've seen here, Washington is trying to take a backwards approach by continuing an unsustainable spending spree leaving us with trillions more in debt, tax hikes on small businesses and workers, while doing nothing to address needed regulatory fixes that actually improve roads and bridges. We're looking forward to speaking with Granite Staters about the impact of these bills and how they can voice their concerns to their lawmakers."
WHAT: End Washington Waste: Stop the Spending Spree
WHO: AFP-NH
WHEN: July 31st, 2:00PM
WHERE: 21 Wotanda Ln
Meredith, NH 03253-6754
All media are invited to attend. RSVP with Greg Moore at GMoore@afphq.org.
Background:
The event is part of AFP's seven-figure campaign, called "End Washington Waste: Stop the Spending Spree," that connects Americans with the harms of the proposal while leveraging the full weight of the grassroots group's capabilities to drive opposition to President Biden's $4 trillion infrastructure proposal.
So far, AFP's efforts have generated more than 1 million letters to federal lawmakers. That number surpasses any other grassroots advocacy campaign in AFP history. More than 33,000 people have called their congressional offices, too.
Greg Moore: Instead of wasting trillions, reform the way we do infrastructure, Union Leader Op-Ed