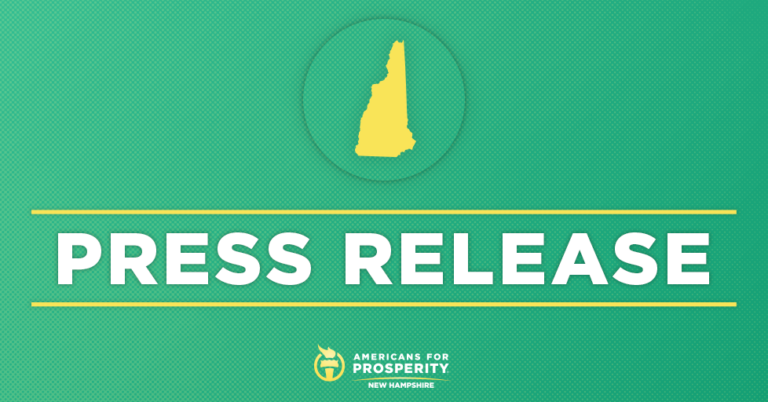 AFP-NH Announces Fifth Round of State Legislative Endorsements
CONCORD, NH – Americans for Prosperity-New Hampshire (AFP-NH) today announced its support for six additional state legislative candidates running in November's elections. These individuals earned the support of AFP-NH for their dedication to tackling the greatest challenges Granite Staters face.
AFP-NH State Director Greg Moore issued the following statement:
"We are excited to support these exceptional candidates. Our state needs legislators who will fight for opportunity for every Granite Stater and will put principles over politics. Each of these individuals are dedicated to lowering the tax burden on hardworking families, expanding access to quality, affordable health care, and removing barriers standing in the way of workers achieving their version of the American dream. We urge Granite Staters to vote for these candidates that will ensure our state comes back even stronger from this pandemic."
Each candidate earned the support of AFP-NH for their dedication to championing principled policy solutions:
Rep. Carol McGuire (Merrimack 29): As the former Chair of the Executive Departments and Administration Committee, Rep. Carol McGuire has been a champion for removing barriers on workers through supporting occupational licensure reform. Rep. McGuire also supports smart on crime, soft on taxpayer criminal justice reforms that make our communities safer.
Rep. Jeanine Notter (Hillsborough 21): Rep. Jeanine Notter consistently stands up for fiscal responsibility and champions policies that ensure Granite Staters have access to affordable, accessible utilities.
Rep. Scott Wallace (Rockingham 12): Rep. Scott Wallace strongly advocates for tax reform that allows hardworking families to keep more of what they earn and supports right to work legislation that enables workers to control their paycheck.
Rep. Barbara Comtois (Belknap 7): Rep. Barbara Comtois  has fought to lower taxes and eliminate reckless spending. She also champions reducing red tape to make it easier for businesses to thrive and create jobs.
Rep. Michael Yakubovich (Merrimack 24): As a member of the Executive Departments and Administration, Rep. Michael Yakuboivch champions legislation that removes barriers on workers and has been a staunch supporter of business tax relief that spurred New Hampshire's economy and created thousands of new jobs.
Jim Kofalt (Hillsborough 4): If elected, Jim Kofalt will support legislation that expands economic opportunity for all Granite Staters and champion worker freedom.