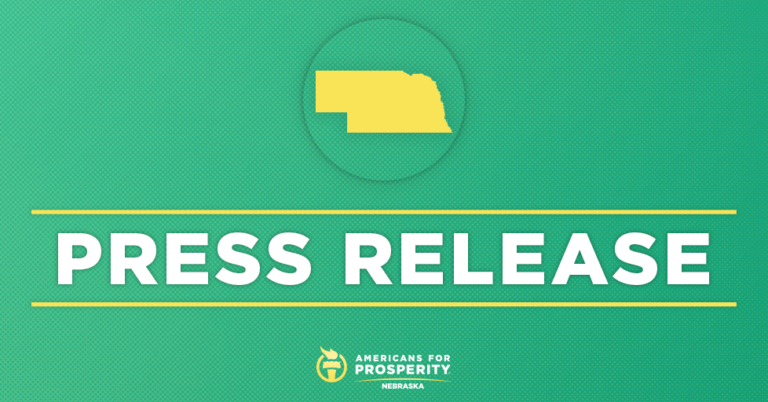 AFP-NE Calls for Special Session Following Legislature's Failure to Pass Tax Reform
Grassroots group urges lawmakers address tax reform in special session, bring tax relief for Nebraskans
LINCOLN, Neb. – Americans for Prosperity- Nebraska (AFP-NE) on Tuesday expressed disappointment in lawmakers for failing to pass the Property Tax Cuts and Opportunities Act, a tax reform package proposed by Gov. Pete Ricketts and sponsored by Sen. Jim Smith, and called on the legislature to reconvene for a special session to pass tax reform that does not increase taxes on Nebraskans.
"We've all seen what tax reform has done on the national level and Nebraska needs to enhance those benefits by passing a tax reform law of its own.  Failure to challenge the status quo will harm our economy and be detrimental for taxpayers," said Jessica Shelburn, AFP-NE State Director. "Senators need to work out a tax reform compromise that excludes any form of tax increases and reconvene for a special session to deliver the tax relief Nebraskans need and deserve."
Background:
Nebraskans face some of the most burdensome property taxes in the nation. According to the Tax Foundation, Nebraska has the 12th highest property taxes per capita in the United States.
For further information or an interview, reach Jessica Shelburn at jshelburn@afphq.org or (402) 499-6918. 
Americans for Prosperity (AFP) exists to recruit, educate, and mobilize citizens in support of the policies and goals of a free society at the local, state, and federal level, helping every American live their dream – especially the least fortunate. AFP has more than 3.2 million activists across the nation, a local infrastructure that includes 36 state chapters, and has received financial support from more than 100,000 Americans in all 50 states. For more information, visit www.americansforprosperity.org
###