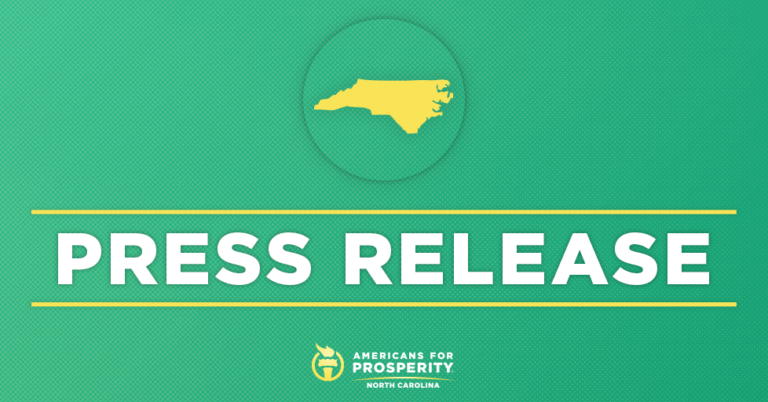 AFP-NC Responds to Amazon's List of 20
Raleigh makes the list
RALEIGH, NC – Americans for Prosperity-North Carolina (AFP-NC) on Thursday responded to Amazon's announcement it has narrowed its list of HQ2 candidates to 20 metropolitan areas, including Raleigh. AFP-NC has consistently opposed tax handouts and other corporate welfare schemes that reduce competition and give unfair advantages to the powerful and well-connected.
AFP-NC Deputy State Director Anna Beavon Gravely issued the following statement:
"Governor Cooper's determination to lure companies with corporate welfare threatens to eat away at the benefits we'll reap from both federal and state tax reform. North Carolina should stray from Cooper's reverse Robin Hood scheme, where middle-class residents' money is used to benefit the powerful and well-connected businesses. North Carolina has already spent almost $100,000 to lure Amazon to North Carolina, and pledging hundreds of millions more just takes away from taxpayers or core government serves. If Cooper wants to attract Amazon and other businesses to North Carolina, he should double down on the pro-growth economic policies that have made our state the most business-friendly in the country."
Background:
Although Charlotte submitted a proposal to Amazon, it was not included in the 20 finalists released today.
A recent report by The Business Journals found that taxpayer subsidies do not produce the results politicians say they will. According to the report, Amazon receives more than $1.2 billion in tax subsidies. Yet the returns on Amazon's public investments are mixed at best, with job totals and wages in Stoughton, Mass., and Miami, Fl. falling – leading to accusations that Amazon made misleading promises.
Governor Cooper has said that "We need to stop the continuing corporate tax giveaways and put more money in the pockets of middle class families." We agree. And when Gov. Cooper vetoed the 2017-2018 budget compromise, he argued that "Tax giveaways to corporations and the wealthiest will punch a hole in our budget."
But since taking office, Governor Cooper has committed more than $167 million in corporate welfare spending.
Click here to learn more about Reverse Robin Hood Cooper.
For further information or an interview, reach Lorenz Isidro at LIsidro@afphq.org or (703) 887-7724. 
Americans for Prosperity (AFP) exists to recruit, educate, and mobilize citizens in support of the policies and goals of a free society at the local, state, and federal level, helping every American live their dream – especially the least fortunate. AFP has more than 3.2 million activists across the nation, a local infrastructure that includes 36 state chapters, and has received financial support from more than 100,000 Americans in all 50 states. For more information, visit www.americansforprosperity.org
###