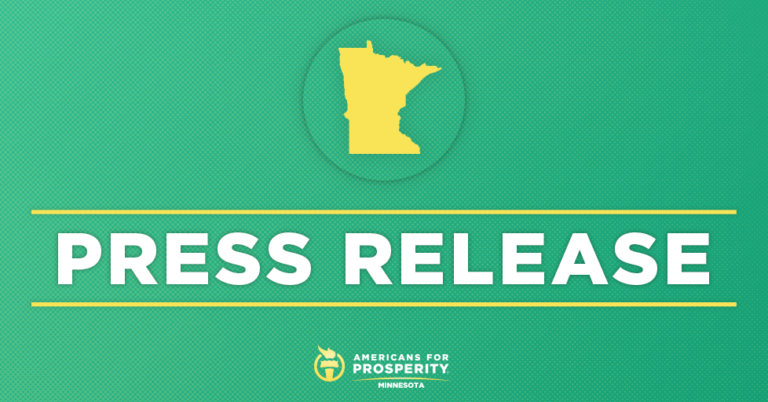 AFP-MN to Legislature: Reject Opioid Fee Increase and Protect Minnesotans from Rising Health Care Costs
Grassroots group warns lawmakers opioid bill is wrong solution, would impose more costs on Minnesotans
St. Paul, MN – Americans for Prosperity-Minnesota (AFP-MN) on Thursday urged Senators to vote "No" on SF730, a bill that would place additional fees onto patients already struggling with increased health care costs. AFP-MN sent Senators a key vote letter calling on members to reject the bill. AFP-MN shares the belief the opioid crisis requires thoughtful, long-term attention, but that the Legislature should instead focus on limiting availability and potential for abuse of prescription opioids instead of implementing any tax or fee increases on Minnesotans.
"Regardless of what you call it or where in the system it is imposed, this is still government thrusting additional cost burdens on individuals and families, many of whom are already struggling to afford health care," said Jason Flohrs AFP-MN State Director. "For years, the Minnesota Legislature has worked to address rising health care costs by removing government-imposed costs in health care. It is along those lines that many members have voiced their opposition to Governor Dayton's $1 billion proposal to reinstate the sick tax. This opioid proposal is no different; ultimately, this $20 million will come at the direct expense of Minnesota patients and their families.
"With a projected budget surplus, over $250 million in currently collected rebate funds, plus federal assistance on its way, the Legislature should prioritize these existing funds," Flohrs continued. "We urge the Senate to reject this bill and ensure those who suffer from acute and chronic pain do not have their treatments jeopardized with higher costs and a heavier tax burden."
Background:
AFP-MN released their "Roadmap to Prosperity" policy agenda to show lawmakers a path to improving the economic climate and to make Minnesota a more open and free society. SF730 contradicts the agenda's focus of restoring fiscal stability and protecting taxpayers from out of control spending and overregulation.
For further information or an interview, reach Jason Flohrs at JFlohrs@afphq.org. 
###