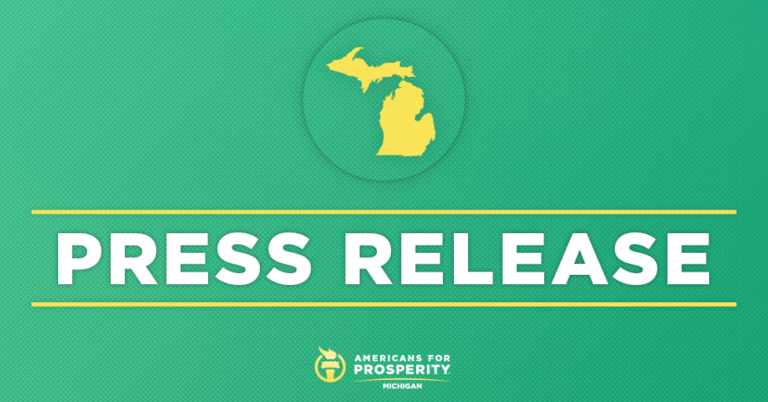 AFP-MI: Michigan Needs a Better Route to Enhance Infrastructure
Lansing, MI – Americans for Prosperity (AFP) today launched a six-figure digital campaign in support of improving America's infrastructure without imposing a federal 25-cent per gallon gas tax hike. Additionally, if coupled with Governor Whitmer's gas tax hike proposal, then Michigan families could be forced to pay a 70-cent per gallon gas tax hike. AFP also released state-by-state analysis of the real-life consequences that this tax increase would have on Michiganders and people across the country.
Updated State-by-State Analysis of a 25-Cent Per Gallon Federal Gas Tax Increase
According to the findings, households across all fifty states would face hundreds of dollars in higher taxes at the gas pump. Notably, households in states like Wyoming, Texas, South Dakota, South Carolina, and Mississippi would all see a new tax burden upwards of $350 per year. Furthermore, the total state and federal tax burden would climb to over $1.00 per gallon in Pennsylvania, 96-cents in California, 92-cents in Washington, 87-cents in Hawaii, and 87-cents in New York.
VIEW State-by-State Analysis of a 25-Cent Per Gallon Federal Gas Tax Increase
Americans for Prosperity Michigan State Director, Annie Patnaude issued the following statement:
"As we've said before, when it comes to a federal or state gas tax in Michigan, it's simple kitchen-table economics – and Michiganders can't afford it. According to our recent poll, we know that nearly 80% of Michiganders do not support Governor Whitmer's proposed 45-cent gas tax and AFP-MI is also encouraging Representative(s) Kildee and Mitchell to put Michiganders first by opposing all federal efforts to hike the gas tax even higher. There is a better route to reforming our infrastructure that does not include Michigan families paying nearly 70-cents per gallon more."
AFP will begin launching digital ads and encouraging lawmakers to oppose all efforts to increase the gas tax and instead prioritize key reforms that will improve our nation's infrastructure, like:
Preserving federal infrastructure dollars for targeted construction projects of a national priority;
Unleashing private investment in infrastructure assets;
Returning power and responsibility to the states wherever possible;
Overhauling the regulatory and permitting system to improve outcomes and efficiency; and
Eliminating costly and unfair labor restrictions.
AFP has long maintained that there are better ways to address our nation's infrastructure challenges than asking taxpayers to reach back into their pockets to funnel more money into a broken system. The economy is booming in large part to the tax and regulatory reforms that Congress and the administration have implemented, and we urge them not to undermine that success by clawing back that tax relief at the gas pump.
For further information or an interview, reach Anna McEntee, amcentee@afphq.org, 703-674-9227.