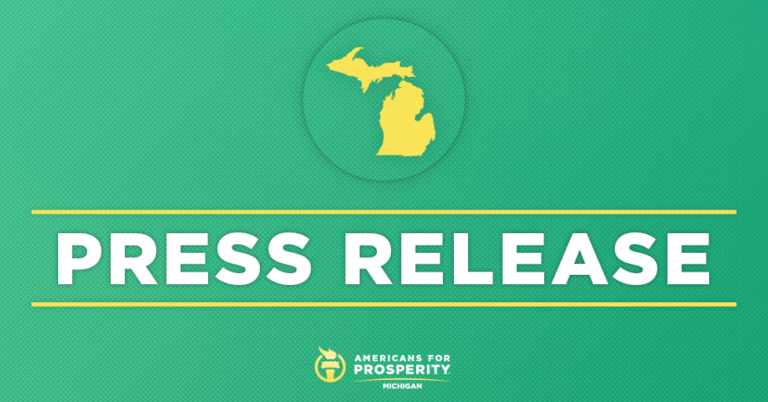 AFP-MI: "Gov. Whitmer's Bait-and-Switch Tax Plan is a Bad Deal for Michigan Taxpayers"
Lansing Leaves Michiganders in the Cold with a Gimmick-y Check
Lansing, Michigan—State lawmakers are poised to vote on a tax plan released from conference committee today. The proposal, which was laid out in vague terms Monday and circumvented committee debate, breaks a promise made 15 years ago by then-Governor Jennifer Granholm that the $1.5 billion tax hike she signed into law in 2007 would roll back. Governor Whitmer voted for the "temporary tax hike" during her tenure in the Michigan State Senate.
Instead of rolling back Michigan's personal income tax rate, Governor Whitmer's plan blocks that tax relief in exchange for issuing a paltry $180 inflation relief check to Michigan taxpayers. At the same time, the Governor is touting ongoing diversions of business tax revenue into a fund for company-specific tax deals.
Annie Patnaude, state director for Americans for Prosperity-Michigan, promised the group would hold lawmakers accountable for their votes. She issued the following statement:
"This bait-and-switch tax plan burdens Michigan workers and small businesses with a $700 million tax hike in the first year alone, even as lawmakers prepare to vote on the largest budget in state history.
"One-time inflation relief checks are a flimsy apology that show just how out-of-touch Gov. Whitmer is with working families—$180 doesn't even cover a week's work of groceries.
"We are prepared to make sure Michiganders see through the flimsy $180 checks. Raising taxes on working Michiganders by $700 million to free up money for company-specific sweetheart deals doubles down on the economic challenges our state faces. In 2021, Michigan ranked #1 in the country for small business closures, #6 for outbound moves, and we have now experienced two years of population decline."