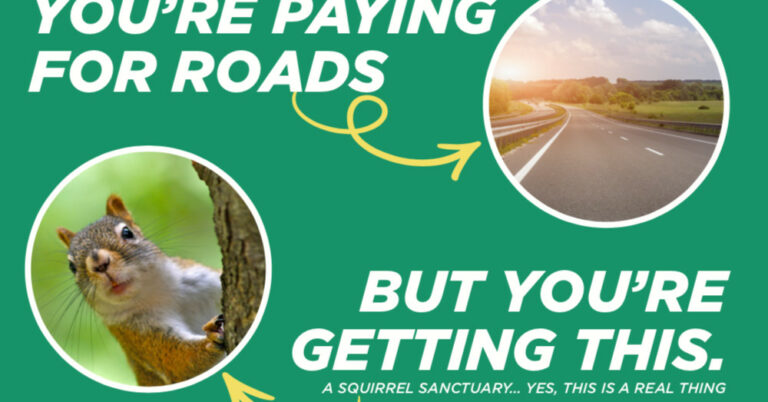 AFP Kicks Off Summer Driving Season by Urging Congress to Hit the Brakes on a Federal Gas Tax Increase
Arlington, Va. – Americans for Prosperity (AFP) today announced a new grassroots effort urging Congress to focus on comprehensive reforms to prioritize financing on roads and bridges of national importance and streamline regulation and permitting processes rather than considering any increases to the federal gas tax.
The campaign comes as the White House and congressional leaders meet this week to discuss funding mechanisms for a proposed $2 trillion infrastructure package and as American families hit the road for the unofficial start of summer.
Beginning today and running through the Memorial Day congressional recess, AFP will engage in a digital and direct mail effort combined with on-the-ground events hosted by AFP grassroots state chapters at local gas stations where a limited number of drivers will be treated to tax-free gas on a first come, first serve basis. The events will connect gas-buyers with the reality that nearly 30 cents of every federal gas tax dollar is wasted on pet projects that have nothing to do with building roads and bridges.
The direct mail and digital effort targets lawmakers across the ideological spectrum who sit on key committees, urging them to oppose any effort to hike the federal gas tax without first fixing the current system.
View an example of the direct mail here
View an example of the event materials
"Congress has money to improve roads and bridges – they just need to spend it smarter," said Russ Latino, a vice president at Americans for Prosperity, managing the organization's economic opportunity portfolio. "Paying more at the pump won't fix our roads and bridges. It will only undermine the most significant tax relief in a generation, perpetuate Washington's wasteful tax and spend habits, and strain family budgets. For most Americans, filling up the gas tank isn't a choice – it's a necessity."
Latino continued: 
"Currently, federal gas tax dollars are being diverted to projects that have nothing to do with roads and bridges, or which are inherently local in nature. The better way to modernize and repair our nation's roads and bridges is to target federal gas tax dollars toward the construction and maintenance of critical national priorities, allow state's greater flexibility to address their needs, and unleash private investment." 
The ad campaign targets House Ways and Means Committee Members Rep. Earl Blumenauer (D-OR),Rep. Steven Horsford (D-NV), Rep. Darin La Hood (R-IL), Rep. Ron Estes (R-KS), and Rep. Stephanie Murphy (D-FL), House Transportation and Infrastructure Committee Members Rep. Colin Allred (D-TX), Rep. Sharice Davids (D-KS), Rep. Abby Finkenauer (D-IA), Rep. Harley Rouda (D-CA), Rep. Greg Stanton (D-AZ), Rep. Rodney Davis (R-IL), Rep.  John Katko (R-NY), and Rep. Brian Fitzpatrick (R-PA), and Rep. Chris Collins (R-NY), and Senate Commerce, Science, and Transportation Committee Member Sen. Roger Wicker (R-MS). 
For further information or to set up an interview, please send an email to GCipriano@afphq.org.
Through broad-based grassroots outreach, Americans for Prosperity (AFP) is driving long-term solutions to the country's biggest problems. AFP activists engage friends and neighbors on key issues and encourage them to take an active role in building a culture of mutual benefit, where people succeed by helping one another. AFP recruits and unites activists in 35 states behind a common goal of advancing policies that will help people improve their lives. For more information, visit www.americansforprosperity.org
###