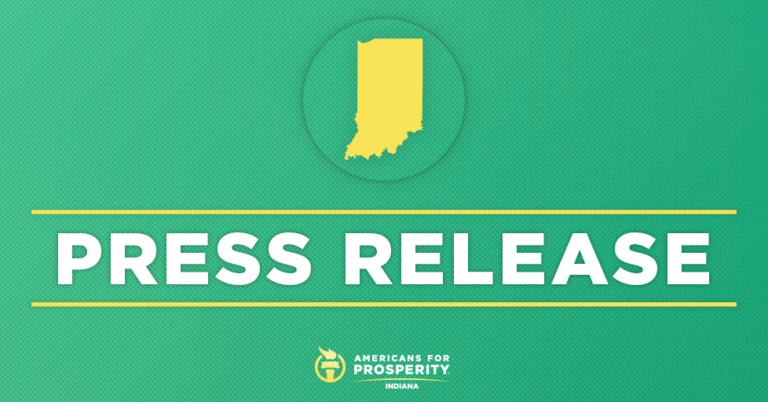 AFP-IN: House-Passed Bill Continues Cycle of Reckless Spending
INDIANAPOLIS, Ind. – Americans for Prosperity-Indiana (AFP-IN) expressed disappointment after the U.S. House of Representatives joined the Senate in passing H.R. 6157, another huge appropriations bill that keeps spending at unsustainable levels and punts on important spending decisions for various government departments to the "lame duck" session. The bill passed 361-61. Reps. Jim Banks and Trey Hollingsworth were the only members of Indiana's House delegation to vote against the measure.
AFP-IN State Director Justin Stevens issued the following statement:
"Lawmakers had another opportunity to demonstrate a commitment to fiscal restraint but instead greenlighted more of the thoughtless spending Hoosiers elected them to rein in. This defense of the status quo is a betrayal of taxpayers' trust and apparently something most lawmakers have no will to correct."
AFP is committed to pressing Congress to do better over the long-term through their grassroots effort, Stop Overspending. The group has consistently called on Congress to freeze federal discretionary spending and then begin to fix the underlying overspending problem in all areas of the budget.
Read about the facts, grassroots events, paid advertising and more at https://www.stopoverspending.com.
Background:
AFP Calls Out Sen. Donnelly in July Fourth Recess Ad Campaign (6/28/2018)
AFP-IN Urges Sen. Donnelly to Support Trump's Spending Cuts (6/19/2018)
AFP-IN Thanks IN Representatives for Supporting Trump's Spending Cuts (6/8/2018)
AFP Challenges IN Delegation to Cosponsor Trump's Rescission Package (6/1/2018)
AFP-IN Holds Visclosky Accountable on Government Spending with New Campaign (5/24/2018)
For further information or an interview, reach Lorenz Isidro at LIsidro@afphq.org or (703) 887-7724. 
Americans for Prosperity (AFP) exists to recruit, educate, and mobilize citizens in support of the policies and goals of a free society at the local, state, and federal level, helping every American live their dream – especially the least fortunate. AFP has more than 3.2 million activists across the nation, a local infrastructure that includes 36 state chapters, and has received financial support from more than 100,000 Americans in all 50 states. For more information, visit www.americansforprosperity.org
###