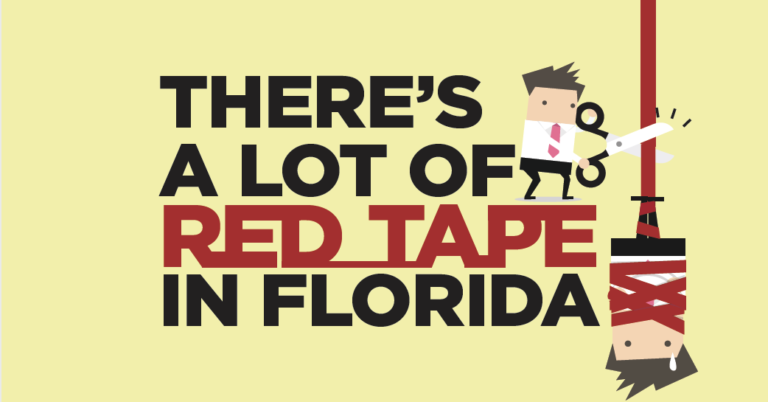 AFP-FL Calls on Florida Lawmakers to Unleash Employment Opportunity
Reforming occupational licensing laws will boost jobs growth and save Floridians time and money
Tallahassee, FL – Americans for Prosperity-Florida (AFP-FL) today launched a comprehensive campaign to boost efforts to reform Florida's restrictive and outdated occupational licensing laws. The campaign will include targeted direct-mail, digital, and the group's signature grassroots efforts to mobilize Floridians to engage their local lawmakers during the state's legislative session.
To kick off the campaign, AFP-FL is launching direct mail and digital into the districts of Florida Senators that are expected to vote on occupational licensing reforms in committee. View samples of the direct mail here and here.
During the 2020 State of the State, Governor Ron DeSantis recognized the importance of reforming occupational licensing laws. He noted that "Our citizens shouldn't need a permission slip from the government in order to earn a living." DeSantis also noted that during the 2019 session the effort stalled. "We have a good reform bill pending before the Legislature that made it to the 1-yard line last year."
AFP-FL's campaign will encourage lawmakers to support reforming occupational licensing laws by bringing to bear the full extent of its grassroots capabilities.
AFP-FL state director Skylar Zander released the following statement:
"AFP-FL believes that all Floridians deserve the opportunity to support their families without needless government burdens. To unleash these opportunities, we want to help Gov. DeSantis and lawmakers that are willing to come together to take licensing reform and 'punch it in the end zone this year.'
"While some government occupational licenses may have originated as well-intentioned, today they too often represent anti-competitive, needlessly burdensome, and ineffective barriers that do little to address public health and safety concerns. Florida's workforce of the future would be better served if the training and credentialing that inform job preparedness were dictated by the demands of consumers and job seekers. We should give everyone the freedom to innovate and unleash opportunity without rigid government requirements. We have a great opportunity to drive reforms that will continue to make Florida the best state to live, work, and raise a family."
Background:
AFP-FL thanks lawmakers that sponsored legislation to reform occupational licensing.
AFP-FL will bring activists to Tallahassee throughout the legislative session to speak up for legislative proposals that would help reduce barriers and curb occupational licensing laws.
Ben Albritton (SB 474) and Rep. Blaise Ingoglia (HB 1193) addresses overregulation over a number of industries and would allow health care practitioners to work and keep their licenses in event they could default on their student loans.
Senators Keith Perry (SB 1336) and Michael Grant (HB 3) would preempt additional occupational licensing regulations away from localities to the State to ensure equal application of the law across the state.
Manny Diaz (SB 1124) and Rep. Paul Renner (HB 707) would require all occupational licensing go under review over a four-year period and require that changes be approved by legislature or else sunset.
Occupational licenses are government approvals for who can work in certain fields. These licenses were once associated with professions such as doctors and lawyers, but recently they have expanded to occupations such as hair braiders, athletic trainers, and even florists.
These licenses are a barrier to opportunity for workers who want to get to work, particularly workers in the trades or without a college degree. Licenses are also especially harmful to the poor, minorities, and women.
A recent national study found that governmental licensing barriers across the U.S. cost our nation nearly 2 million jobs, $6.2-$7.1 billion in deadweight economic losses, and between $183.9-197.3 billion in misallocated resources annually. This is because people are spending more than they would have, and spending on different things, than if our nation's many licensing laws weren't creating barriers to accessing desired products and services.
Licensing requirements are particularly challenging to overcome for those experiencing financial hardship as they seek career paths and critical services for their families. Research shows that in more onerously licensed states, entrepreneurship  rates are lower among low-income residents and recidivism rates are higher for ex-offenders. Economic models in another study suggest "occupational licensing can result in up to 2.85 million fewer jobs nationwide, with an annual cost to consumers of $203 billion."
Occupational licenses are ostensibly intended to protect consumers from harm, but research and historical observations suggest licensing laws have negligible and even negative effects on health and safety. Instead, occupational licenses serve entrenched interests by insulating them from competition.
An Obama White House report also found that many government licenses have negative effects on health and safety. The report states that "Licensing laws also lead to higher prices for goods and services… Moreover, in a number of other studies, licensing did not increase the quality of goods and services, suggesting that consumers are sometimes paying higher prices without getting improved goods or services."