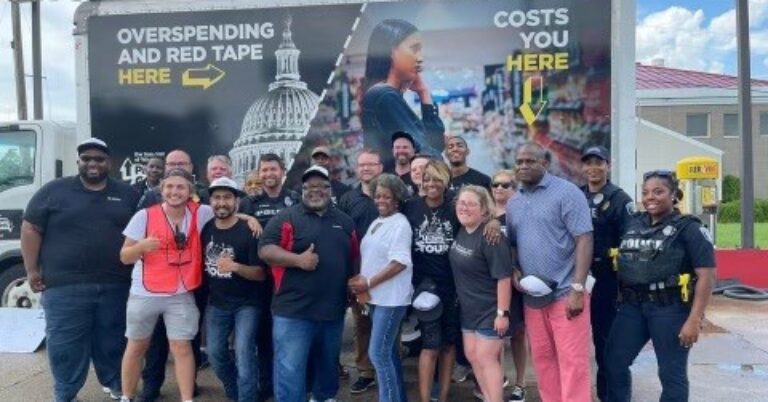 How can Washington make gas and haircuts affordable again? End wasteful spending.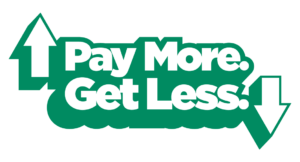 Imagine working for years, retiring, and then not being able to fully fill up your gas tank because of historic inflation. Americans have been forced to make difficult choices because wasteful government spending is driving consumer prices to historic levels.
Over the past several months on its True Cost of Washington tour, Americans for Prosperity has offered relief to drivers by dropping the price of gas back to $2.38, the cost of a gallon of gas when President Joe Biden took office.
FOX 16 interviewed Marla McDaniel, an Arkansas resident who came to a tour event in Little Rock and was able to fully fill her gas tank for the first time in a year because gas was more affordable.
Along with hundreds of other Arkansans, Marla also had chance to air their frustrations — and to demand action to cut wasteful government spending.
Rural Americans hit hard by inflation
Residents in more rural states like Arkansas drive more often than their urban counterparts.
Some of these residents make their living hauling goods to grocery stores, medical supplies to hospitals, and goods to trade to the nation's ports and exports. Others run small businesses.
At the Little Rock True Cost of Washington tour event, AFP staff members heard from Heather, whose husband operates large machinery that runs on diesel fuel. With inflation and poor energy policies driving up diesel prices, it makes construction, farming, and transporting goods more expensive for American families.
Heather herself operates a small business that requires her to drive to meet with clients. She was able to get 25 gallons of gas for just $60.
Another patron, Kevin, filled up his 32-gallon tank for just over $74. Kevin said he normally pays about $138 every time he goes to the gas station, a chore he has to do twice a week.
Lines for the event stretched all the way up the interstate off ramp. In two hours, AFP helped more than 100 customers beat the effects of inflation.
Ending wasteful government spending will trim inflation
Little Rock residents were not only treated to lower priced gasoline at the True Cost of Washington Tour event. AFP also gave away free haircuts.
According to local NBC affiliate KARK, hair salons are just some of the businesses that have been hard hit by inflation. One salon owner explained the price of aluminum foil, which is used to highlight hair, had jumped by 20% alone.
That owner tried to absorb costs, but eventually was forced to raise consumer prices.
It's time to cut wasteful government spending
When asked what Washington lawmakers could do to help people like himself, retiree Mr. Brooks said, "Cut out the propaganda. … Drop the prices, you can do it."
Ryan Norris, director of AFP-Arkansas, explained to FOX 16 that True Cost of Washington tour event stimulated discussion among residents about the causes of high inflation. "Everywhere that you turn you have a conversation with Arkansans about the price of living," said Norris.
Since AFP's True Cost of Washington Tour began in April, AFP has been meeting with Americans to offer solutions that would immediately lower the cost of living in the United States. These ideas include:
Unleashing energy abundance;
Cutting red tape that keeps prices high;
Stopping restricting housing supply;
Fueling the flexible workforce of tomorrow;
Tackling rising costs through trade; and
Beat inflation by reining in the federal budget and ending wasteful government spending.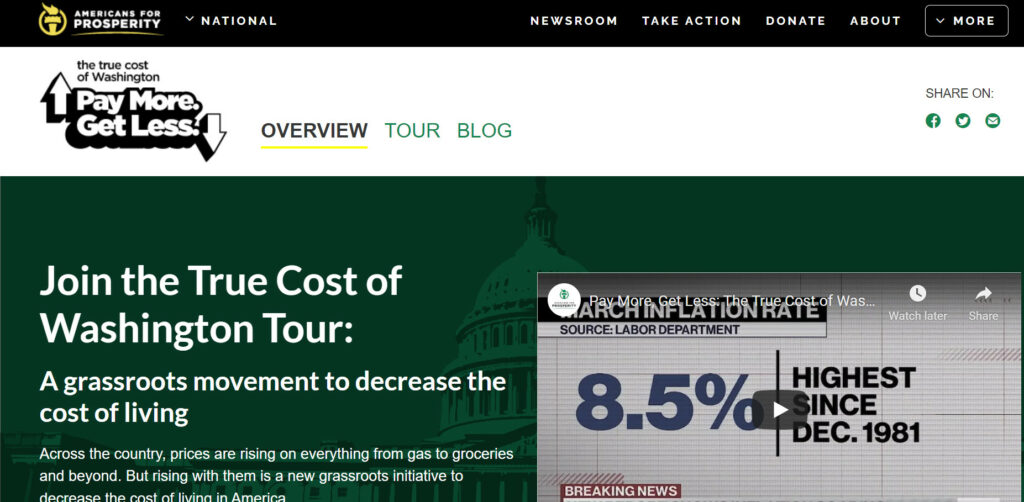 Join the movement to lower the cost of living in America today.