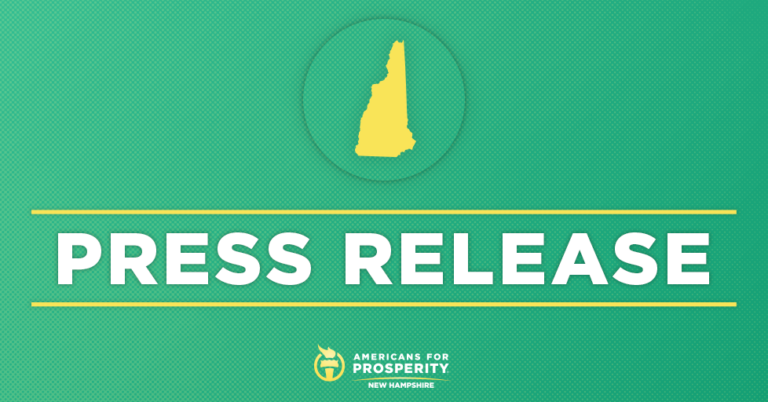 AFP Announces Defender of Liberty Award
Rep. Jason Osborne receives award for his commitment to breaking down barriers
MANCHESTER, NH – Americans for Prosperity-New Hampshire (AFP-NH) today announced that Rep. Jason Osborne will receive the grassroots group's Tom Thomson Defender of Liberty award.
"Rep. Jason Osborne has evolved into a leader and a champion for the New Hampshire Advantage in Concord. His commitment to advancing and upholding policies that promote economic growth have resulted in a booming economy and more opportunity for Granite Staters. Rep. Osborne has demonstrated throughout the legislative session the principled leadership people expect from their elected officials," said Greg Moore, AFP-NH State Director. "We are proud to recognize Rep. Osborne's work of ensuring New Hampshire remains the beacon of liberty and economic growth in New England."
"I'm proud to announce that Rep. Jason Osborne will receive this award that recognizes the person who worked to advance liberty and increase opportunity and growth for all Granite Staters," said Tom Thomson, AFP-NH's Honorary Chairman. "We hope other lawmakers follow Rep. Osborne's example in embodying our 'Live Free or Die' tradition."
The award's namesake, Tom Thomson has served as the Honorary Chairman of AFP-NH since the chapter's inception in 2008. In 2015, AFP-NH State Director Greg Moore announced the award would be renamed after Thomson. Thomson, the son of former Governor Mel Thomson, has popularized and maintained "The Pledge" to oppose any broad-based sales or income tax in New Hampshire. He is also active at AFP events, with his iconic "Ax the Tax" ax that his father made famous.
Rep. Osborne will receive the award at AFP-NH's annual Christmas Party, which will be held on December 12th at the Backyard Brewery in Manchester at 6:30PM.
68 legislators earned the General John Stark Protector of Freedom Award, given to those legislators who received an A+ grade from AFP-NH for casting votes that removes barriers and helps improve peoples' lives in each of the key votes before their respective body. 75 legislators earned the Ebenezer Mudgett Champion of Freedom Award, given to those legislators who received an A grade from AFP-NH and cast votes in at least half of the key votes.