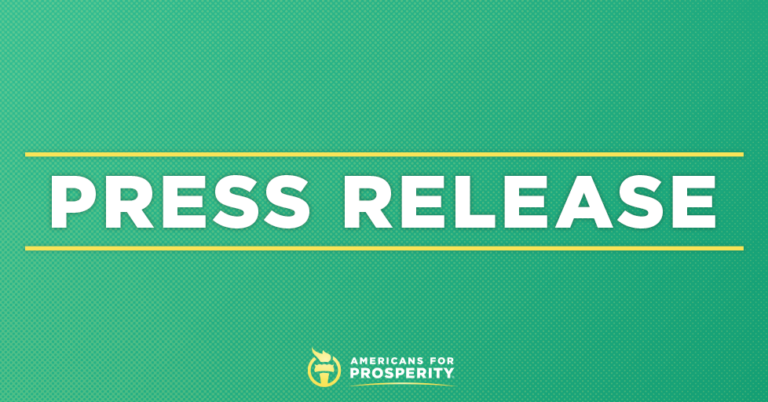 AFP, ACLU, NAACP, PLAN, others Rally for Criminal Justice Reform
CARSON CITY, Nev. – Americans for Prosperity-Nevada (AFP-NV) will be hosting a rally for criminal justice reform with the American Civil Liberties Union (ACLU), the National Association for the Advancement of Colored People (NAACP), the Progressive Leadership Alliance of Nevada (PLAN), and other coalition partners on Monday, March 18th on the south steps of the Capitol in Carson City.
AFP-NV will share its vision for criminal justice reform and express its support for multiple bills, including Assembly Bill 236, which makes far-ranging reforms across Nevada's criminal justice system.
RALLY FOR CRIMINAL JUSTICE REFORM
Who: AFP-NV, ACLU, NAACP, PLAN, etc.
When: Monday, March 18th at 9:30 a.m.
Where: Nevada Capitol Building
South Steps
101 N Carson St, Carson City, NV 89701
Holly Welborn, Policy Director at the ACLU of Nevada:
"We're excited to meet with supporters of criminal justice reform and to rally for putting an end to cash bail in Nevada. It is important for legislators to hear from the people affected by mass incarceration policies, and we are thrilled to the work toward a smarter justice system alongside legislators this session."
Wiselet Rouzard, Field Director for AFP-NV:
"Many people with criminal records have needlessly limited access to employment and housing, making it harder for them to get back on their feet and grow as contributing members of society. Important reforms this session such as AB 236 would help solve that by improving public safety, giving people second chances, and helping Nevadans improve their lives. Nevada should be a place where people who have earned second chances get them, and we look forward to working with this extraordinary coalition to push our state in that direction."
Media are invited to attend. For more information, please contact Lorenz Isidro at LIsidro@afphq.org or 703-887-7724.
BACKGROUND:
AB 236 implements recommendations from the Nevada Advisory Commission on the Administration of Justice (ACAJ) as part of their ongoing Justice Reinvestment Initiative. AB 236 makes far-ranging reforms across Nevada's criminal justice system, from pre-prosecution diversion to probation policy.
AFP-NV is committed to building broad coalitions to advance more smart reforms to the criminal justice system in 2019.