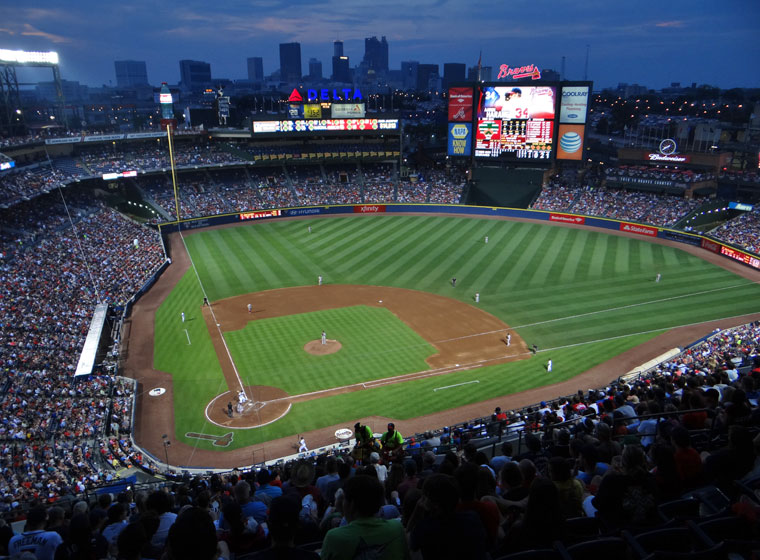 I love the Atlanta Braves. I've been following them as a Georgia native since they virtually paid us to go to games. Back before Chief Knock-A-Homer retired to politically correct obscurity…when we would fire off a cannon every time we hit one out of Atlanta Fulton County Stadium. I contracted Braves fever in 1991 when sports vendors spilled out to every major intersection within a 30 mile radius of the ball park. We held tomahawk chop fire drills when we pulled up at long traffic lights. I was the guy with the foam tomahawk in hand…and strapped to the roof of his car with a 5 foot span stem to stern. But before I was a member of the Atlanta Braves faithful I was a believer in the proper role of government and economic freedom. And that, more-so than any future championship, is the question now hanging in the air over the home team.
On Monday, news broke that the Braves franchise would be moving to Cobb County in 2017 at a site designated near the Cobb Energy Performing Arts Center at I-75 and the Perimeter (ironically, in the back yard of our soon-to-open Americans For Prosperity Georgia headquarters). And along with it, wide speculation of the cost of the new stadium home and rumors that up to $450 million dollars of taxpayer funds will be required to build it.
The Marietta Daily Journal reported several funding mechanisms as possibilities ahead of the release of any hard numbers.
"…if most or all of Cobb's share of the deal is to be paid for via the hotel/motel tax or via a revenue bond issue by the Cobb-Marietta Coliseum and Exhibit Hall Authority, [Cobb Commissioner Tim] Lee likely will find the going easier. Revenue bonds could be paid off with funds generated by the stadium complex, although county taxpayers could still be responsible for making up the difference if stadium or other revenues fall short."
But here are some questions that should lead the conversation prior to a deal that assumes government involvement: how much does Landmark Media (owners of the Braves) stand to save in operating costs through the move to Cobb and how much additional revenue do they stand to bring in? Taken as a whole, why shouldn't they spread their earnings and their savings out and find private equity to cover the cost of the build by building a solid argument for a solid return? Why should taxpayers be leveraged on behalf of private enterprise?
According to Forbes MLB Team Valuations list, the Braves franchise historically brings in $225 million in annual revenue. Landmark acquired the team in 2007 for $400 million and the current valuation stands at $625 million. Stadium naming rights alone could bring in tens of millions of dollars to the franchise (the New York Mets, for example are getting $400 million over 20 years from Citigroup). The specter of a future TV broadcast deal leaves the Braves with lot of revenue potential down the road, given their current contract that assumes $10 to $20 million in annual revenue. This ranks them near the bottom in the League but signals a lot of gap potential to fill. Some top tier teams like the LA Dodgers are bringing in over $250 million annually in TV revenues alone. The 60 acres of land around the new building site gives Landmark an enormous revenue opportunity to lease and develop complimentary entertainment attractions.
The Braves' operational cost savings will also be reduced with the move, adding capital liquidity to the team under current revenues. The team is under a lease agreement with the City of Atlanta and the Fulton County Recreation Authority which spells out a Community Fee of 8.5 percent of gross revenues, an Operator's Fee of $500,000 and a Capital Improvements Fee of $1.5 million. In the most recent season, alone, this amounts to over $20 million in fees paid to the City.
Braves executives cite traffic as the number one reason for the move and that it keeps fans away. But ticket sales accounted for only 22 percent ($50 million) of total revenue last year.
Why should taxpayers be leveraged? The simple answer is, it's easier to exercise a taxing authority and churn out an economic impact study (such studies are widely disputed) to justify government action than it is to build a compelling argument for private equity to play ball, especially when you can take a vote during the proverbial dead of night over the Thanksgiving holiday. It's faster, cleaner, a feather-in-the-cap for local government. It's also not a proper function of government. The Braves may, indeed, represent a phenomenal economic boon for Cobb County and have plenty of justification for escaping the City of Atlanta. All the more reason to embrace economic freedom and let private investment guide the game. Teams should build their own stadiums, not taxpayers.
That being said, go Braves!
Joel Aaron Foster is the State Communications Director for Americans For Prosperity Georgia.